Today's Headlines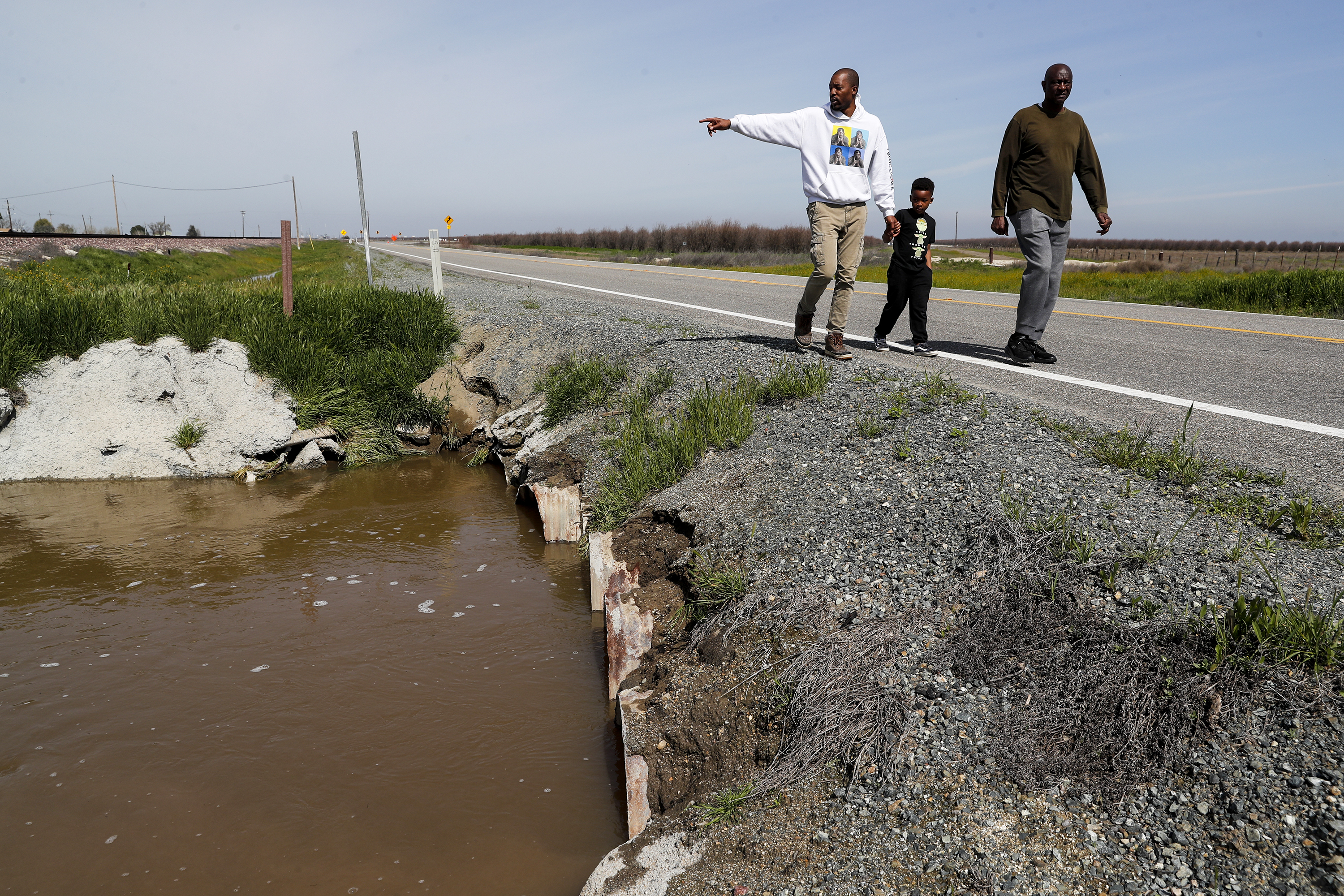 By Laura Blasey
Hello, it's Monday, March 20, and here are the stories you shouldn't miss today.
TOP STORIES
As storms drench California, a community fights to keep the water out
When it rained for days and floodwaters poured onto roads, the people of Allensworth grabbed shovels and revved up tractors. The makeshift barriers they built with sandbags, gravel and loose sand kept the water back.
Now, the town of nearly 600 northwest of Bakersfield faces another threat: a broken levee, along with yet another storm expected in a few days. Some residents again spent the weekend shoveling sand to prevent flooding.
But with so many storms and so much water threatening Allensworth, local leaders say they need help from county, state and local officials to protect their town.
More:

Nancy Pelosi talks moving on, loosening up and writing a book
The Times spent a day with Rep. Nancy Pelosi (D-San Francisco), 82, and her team to see how she is adjusting to life outside of the House speakership. She began with ice cream for breakfast and finished with church-style dancing to a performance of the Resistance Revival Chorus.
She says she's enjoying her freedom as Nancy on the Hill instead of speaker of the House.
Pelosi's new role is a mixed bag, though. She's able to speak her mind more freely but still wants to pick and choose her moments because she no longer speaks for the House Democratic Caucus. She has given up the 24/7 schedule of a party leader but has to find ways to fill her calendar, because she loathes downtime.
As maternal deaths surge, California fights back
With federal data showing a surge in deaths among pregnant women during the pandemic, California advocates are trying to turn the tide.
The National Center for Health Statistics reported that 1,205 pregnant women died in the United States in 2021, a 40% increase over 2020. Pregnant Black women continued to have the highest risk of dying, according to the report.
Newsom announces plan for a state brand of insulin
Gov. Gavin Newsom announced a $50-million contract with the nonprofit generic drugmaker Civica to produce insulin under the state's own label.
Newsom originally declared his intent to produce generic drugs three years ago in an attempt to lower the cost of pharmaceutical products. Pending approval by the U.S. Food and Drug Administration, the deal with Civica would provide the first pharmaceutical product made under the CalRX brand of generic drugs.
Under the deal, a 10-milliliter vial — normally costing $300 — would be available for the same $30 it costs the state to manufacture and distribute the drug, according to the governor's office.
Our daily news podcast
If you're a fan of this newsletter, you'll love our daily podcast "The Times," hosted every weekday by columnist Gustavo Arellano, along with reporters from across our newsroom. Go beyond the headlines. Download and listen on our App, subscribe on Apple Podcasts and follow on Spotify.
OUR MUST-READS FROM THE WEEKEND
These essential workers of LAUSD are about to bring the school district to a halt. A legion of employees — from bus drivers to teacher's aides, food servers to janitors — serve schools in the background and are in many ways the essential workers of campus operations. They will begin a three-day strike Tuesday in their drive for higher wages.
Examination of USC doctor's earlier books finds more instances of plagiarism. Sales of Dr. David Agus' "The Book of Animal Secrets" were suspended after a Times investigation found that at least 95 passages appeared to be copied from uncredited sources. The Times has since reviewed Agus' three previous books.
Silicon Valley Bank's demise animates early days of California's 2024 U.S. Senate contest. The Silicon Valley Bank collapse and the rescue of First Republic highlighted how the financially precarious state of American life could become a pivotal theme in the race — with each candidate striving to convey to voters how they'd be a forceful watchdog of the financial sector.
CALIFORNIA
L.A. strongly approves of Mayor Bass but remains skeptical about fixing homelessness, poll shows. On the eve of her 100th day in office, Mayor Karen Bass enjoys strong approval ratings among Angelenos — a reservoir of goodwill that will be crucial for the her during uphill battles ahead.
Thousands hit the streets for the 38th annual L.A. marathon. Undeterred by cloudy skies and cool temperatures, more than 20,000 participants took to the streets early Sunday. Kenya's Stacy Ndiwa was the first to cross the finish line in the women's division; Ethiopia's Jemal Yimer won the men's division.
In Burbank, a vigil honors disabled people killed by relatives. In the United States, people with disabilities are nearly four times as likely to be a victim of violent crime as those without disabilities. And when they are victimized, people with disabilities are twice as likely as other people to suffer violence at the hands of a family member — including parents.
Support our journalism
Subscribe to the Los Angeles Times.
NATION-WORLD
Wyoming governor signs measure prohibiting abortion pills. Gov. Mark Gordon has signed into law the nation's first explicit ban on abortion pills since the U.S. Supreme Court overturned Roe vs. Wade last summer. A group seeking to open an abortion and women's health clinic in Casper said it was evaluating legal options.
U.S. issues warning about Mexican pharmacies selling tainted, counterfeit pills. The U.S. State Department issued a warning Friday for Americans to "exercise caution" when buying medications from drugstores in Mexico, posting the health alert a week after a letter from two lawmakers and an investigation by The Times.
Earthquake kills at least 14 in Ecuador and one in Peru, and causes widespread damage. The U.S. Geological Survey reported that an earthquake with a magnitude of 6.8 shook southern Ecuador and northern Peru on Saturday, trapping people under rubble and sending rescue teams into streets littered with debris and fallen power lines.
HOLLYWOOD AND THE ARTS
For three-plus hours, Taylor Swift delivers a master class in pop ambition. On Friday, Swift kicked off the Eras tour — her first road show since 2018 — in Arizona. Times pop critic Mikael Wood called it a showcase of the range and versatility that have made Swift the most successful singer-songwriter in an age defined by hip-hop.
Lance Reddick, TV star known for 'The Wire' and 'Fringe,' dies at 60. Reddick died Friday morning in Los Angeles. In an appreciation, television critic Robert Lloyd writes that Reddick was "a marvelously centered performer, he could elevate any scene without breaking a sweat."
Sarah Snook wasn't sold on 'Succession' at first. Now, she feels a 'sense of loss.' HBO's "Succession" returns March 26 for its fourth — and final — season. As the story of the Machiavellian Roy family comes to an end, Snook reflects on playing Siobhan "Shiv" Roy, the only daughter of a ruthless but ailing media tycoon.
BUSINESS
Is AI the future of Hollywood? How the hype squares with reality. Proponents say the technology could assist with editing, stunts, writing and more aspects of the production process. But for all the hype, some remain skeptical, wondering how much of the excitement is venture-capital-fueled froth.
Banking giant UBS acquiring Credit Suisse for $3.2 billion. UBS is buying its smaller rival Credit Suisse in an effort to avoid further market-shaking turmoil in global banking, Swiss President Alain Berset announced Sunday night.
SPORTS
Don't fret about UCLA. Resilience is part of the Bruins' March Madness style. Instinct will be to point to Saturday's close 68-63 victory over Northwestern as evidence for why UCLA can't win a national championship, writes columnist Dylan Hernandez. But don't count the Bruins out just yet.
Shohei Ohtani says he would only pitch in relief for Japan in potential WBC final. The Angels' two-way superstar has been one of the best pitchers and hitters in the tournament. He told Japanese reporters Sunday that he would be available only to pitch out of the bullpen in the World Baseball Classic final Tuesday should Japan beat Mexico in the semifinals.
Free online games
Get our free daily crossword puzzle, sudoku, word search and arcade games in our new game center at latimes.com/games.
OPINION
Iraq is the war no one wants to remember. As an Iraqi American, I can never forget. "For those of us who experienced the deluge, or who were connected to the terrified people below, that day is not something we have to force ourselves to remember. It's a tragedy we can't, and shouldn't, ever forget."
Provide a résumé, cover letter and access to your brain? The creepy race to read workers' minds. Businesses are screening prospective job candidates with tech-assisted cognitive and personality tests and using artificial intelligence to make decisions about hiring, promoting and firing. Federal employment regulators have rightly begun to pay attention.
ONLY IN L.A.
He wants L.A. to love macaws as much as it loves dogs. If you've ever hiked Runyon Canyon, Griffith Park or Kenneth Hahn State Recreation Area, you may have encountered Chan Quach, known as Chan the Birdman, and his flock of macaws: Bella, Rudy, Bruno, Roxy, Sunshine and Anya. It's important to the birds to travel as a group, he says.
With six colorful companions, Quach gets a lot of attention. There's plenty of love and requests for photos, but there's also pushback. So he's on a mission to help locals and businesses see that parrots aren't so different from dogs.
FROM THE ARCHIVES
On March 9, 1986, runners laced up their shoes and gathered at the starting line for the first official Los Angeles Marathon. About 11,000 people participated, and more cheered them on along a route that began at the Coliseum and wound through Little Tokyo and Chinatown.
But perhaps just as long as the race was the road to get a marathon organized. Proponents hoped a large-scale event with the support of city officials would boost L.A.'s national profile à la Boston, New York and Chicago. Detractors pointed out that smaller races and previous attempts at an L.A. marathon had yet to yield results or attract top runners.
City officials decided to move ahead with the idea, announcing the news in September 1985.
"We came to the conclusion that Los Angeles ought to join the ranks of those first-class cities in this country and the rest of the world that annually hold marathons. It is my expectation that, at some point and quickly, Los Angeles will rank with the best in the world," then-Mayor Tom Bradley told reporters.
We appreciate that you took the time to read Today's Headlines! Comments or ideas? Feel free to drop us a note at headlines@latimes.com.