A journey through eviction court
Today's Headlines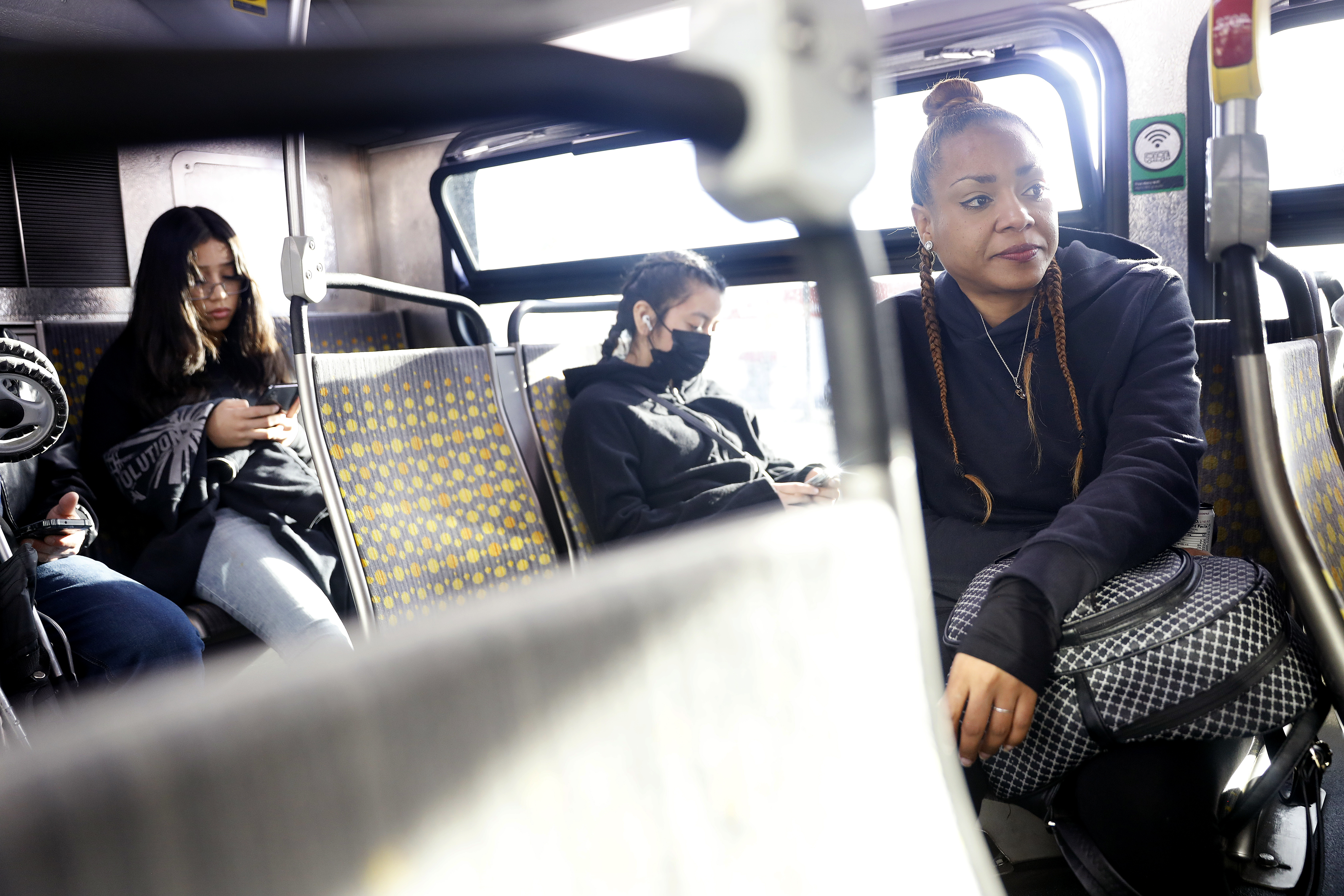 By Elvia Limón, Kenya Romero
Hello, it's Thursday, March 9, and here are the stories you shouldn't miss today:
TOP STORIES
One woman's fight to stave off homelessness
With Los Angeles eviction filings back at pre-pandemic levels, Leticia Graham found herself in court, pleading for more time to avoid homelessness.
Since May, eviction cases returned to pre-pandemic levels of more than 3,000 per month. Kyle Nelson, a postdoctoral researcher at UCLA, expects they will increase even more, to about 5,000 per month, as protections continue to expire.
Graham's case is similar to the type of case that Nelson and others believe will flood the courts — renters who fell thousands of dollars behind on rent during the pandemic and don't earn enough money to pay it back.
A troubled man, a straight-A student and a fatal stabbing
Something seemed deeply wrong with David Zapata. Claudia Montes, his ex-girlfriend and the mother of his child, knew it. So did his friends, who sent her Facebook messages expressing their concern.
Police say that disturbing behavior culminated Friday, when a 17-year-old honors student was stabbed to death outside a King Torta on Valley Boulevard in El Sereno while waiting for his family to pick him up after school. Hours later, a 33-year-old man was stabbed repeatedly on the same street, authorities said.
12 have died since snow cut off California mountain towns, official says
A dozen people in San Bernardino's mountain communities have died, a sheriff's spokesperson says.
Many mountain residents who spoke to The Times, some of whom found neighbors or friends dead inside their homes, said they had no doubt the massive storms and dire aftermath — the blocked roads, the lack of heat, cellphone service and food — probably contributed, if not caused, the casualties.
They also worry that this is just the beginning as people continue to dig out.
After Breonna Taylor: Feds detail Louisville police discrimination
The U.S. Justice Department found that Louisville, Ky., police have engaged in a pattern of violating constitutional rights and discrimination against the Black community after an investigation prompted by the fatal police shooting of Breonna Taylor.
A Justice Department report found the Louisville/Jefferson County Metro Government and Louisville Metro Police Department "engage in a pattern or practice of conduct that deprives people of their rights under the Constitution and federal law."
Death of Ariadna López shines a light on femicide in Mexico
The gruesome killing of Ariadna López shocked Mexico, spurred protests in the capital and highlighted the nation's epidemic of violence against women.
An average of 10 women or girls are slain in Mexico each day, according to the government. Surveys of those 15 or older show that 70% have experienced some kind of violence.
Prosecutors, police and the courts have historically shielded male abusers and allowed class, status and wealth to win out over justice. And though many regions of Mexico have improved investigative procedures and instituted stiffer penalties in femicide cases, activists say the legal system remains deeply sexist. Victims are often blamed for their own demise.
Our daily news podcast
If you're a fan of this newsletter, you'll love our daily podcast "The Times," hosted every weekday by columnist Gustavo Arellano, along with reporters from across our newsroom. Go beyond the headlines. Download and listen on our App, subscribe on Apple Podcasts and follow on Spotify.
PHOTO OF THE DAY
CALIFORNIA
Biden to spotlight gun control in Monterey Park and meet U.K. and Australia leaders in San Diego. President Biden will travel to California on Monday for a multiday visit that will include meetings with the leaders of Australia and the United Kingdom in San Diego and a stop in Monterey Park.
The Pride flag is to fly on L.A. County buildings in June after a unanimous supervisors vote. The five-member board voted unanimously Tuesday to fly the Progress Pride flag at county offices daily this June in honor of LGBTQ+ Pride Month.
Lawyers make opening statements in the Mark Ridley-Thomas corruption trial. His defense attorneys cast Ridley-Thomas as a lifelong public servant who represented the poorest communities of L.A. County and relied on USC, the largest private employer in his district, to help meet the social and health needs of his most vulnerable constituents. But to federal prosecutors, Ridley-Thomas was a conniving operator who squeezed the university for favors to benefit his son.
Support our journalism
Subscribe to the Los Angeles Times.
NATION-WORLD
Tyre Nichols' death spurs Justice Department review of Memphis police. The Justice Department will review Memphis, Tenn., police policies on use of force, de-escalation and special units after the fatal beating of Tyre Nichols.
Head of Russian military company claims extended gains in Ukraine's Bakhmut. The owner of Russia's Wagner Group military company claimed Wednesday that his forces have extended their gains in the key Ukrainian stronghold of Bakhmut as fierce fighting continues in the war's longest battle.
Afghanistan is the world's most repressive country for women, says the U.N. In a statement released on International Women's Day, the U.N. said that Afghanistan's new rulers have shown an almost "singular focus on imposing rules that leave most women and girls effectively trapped in their homes."
Latest eruption of Hawaii's Kilauea stops after 61 days. Scientists at the U.S. Geological Survey's Hawaiian Volcano Observatory said that lava was no longer flowing on the crater floor of Halemaumau, where all recent volcanic activity had been confined, Hawaii News Now reported.
HOLLYWOOD AND THE ARTS
Billy Joel on his years in L.A. Joel, who performs with Stevie Nicks on Friday at SoFi Stadium, shares on the inspiration for "Piano Man," farewell tours and his 1970s hit he now calls "dreary."
Rachael Ray is ready 'to move on' from daytime TV and already cooking up new ventures. Ray said she's ready to move on from "the talk show format production and syndication model." Now, she'll focus on her new production studio.
'Heart Like a Truck' singer Lainey Wilson leads 2023 CMT Music Awards nominees. Country star Lainey Wilson led the 2023 CMT Music Awards nominees, with four nominations, followed by Cody Johnson, first-time nominee Jelly Roll and show co-host Kane Brown.
Former BET CEO Debra Lee details her affair with a co-founder. In her memoir "I Am Debra Lee," BET's former chief executive gets candid about her tenure at the cable network and shares advice for women in corporate America.
BUSINESS
After Twitter layoffs, California bill would strengthen protections for workers. Proposed legislation would require employers who lay off more than 50 workers at a time to provide employees with 90 days' notice. It would also prohibit employers from pressuring workers to sign away their rights in exchange for severance pay.
Drug to prevent preterm birth pulled from market, years after it was shown ineffective. Covis Pharma said it told the Food and Drug Administration that it would voluntarily withdraw the medicine called Makena, which a study in 2019 showed did not work to extend pregnancies.
Tesla's Model Y SUV is being investigated for steering wheels that can fall off. U.S. auto safety regulators have opened an investigation into Tesla's Model Y SUV after getting two complaints that the steering wheels can come off during driving.
SPORTS
Pau Gasol takes rightful place next to 'brother' Kobe Bryant. A choked-up Pau Gasol has his No. 16 Lakers jersey retired to the rafters next to Kobe Bryant's No. 24 during a ceremony Tuesday night.
Anthony Davis leads Lakers' win over Grizzlies after Pau Gasol's jersey is retired. Anthony Davis finished with 30 points and 22 rebounds, plus a bloodied nose, to lead the Lakers to a win over Memphis.
Free online games
Get our free daily crossword puzzle, sudoku, word search and arcade games in our new game center at latimes.com/games.
OPINION
Walgreens is despicable for bowing to pressure not to sell abortion pills in some states. Walgreens caved to political pressure from state lawmakers who are against abortion. That is no reason for Walgreens not to sell abortion pills in those states.
Why was the Murdaugh murder trial captivating for so many? Alex Murdaugh's murder trial seemed less than spellbinding by L.A. standards. But the full family saga is the very model of a modern Southern gothic tale.
Only In L.A.
I'm on a quest to play at every L.A. tennis court. These friendly 15 stand out. On a hunt for friendship, an Angeleno is visiting every tennis court in L.A. Here are his favorites so far (and the people he's met along the way.)
FROM THE ARCHIVES
The murder of Notorious B.I.G. Notorious B.I.G. was leaving a music industry party at the Petersen Automotive Museum, sitting in the front passenger seat of a Chevrolet Suburban, when his killer pulled up alongside in a dark Chevy Impala.
As the SUV idled at a stoplight, the gunman opened fire, hitting the 24-year-old rap star, who was also known as Biggie Smalls, four times. He was taken to Cedars-Sinai Medical Center, where he was pronounced dead shortly after 1 a.m. on March 9, 1997.
The fatal round entered his right hip and ripped through his liver, lung and heart.
Despite numerous investigations by the Los Angeles Police Department, lawsuits, books and a plethora of allegations, the slaying of the performer whose real name was Christopher Wallace remains officially unsolved.
We appreciate that you took the time to read Today's Headlines! Comments or ideas? Feel free to drop us a note at headlines@latimes.com.