California levees' weak spots are revealed
Today's Headlines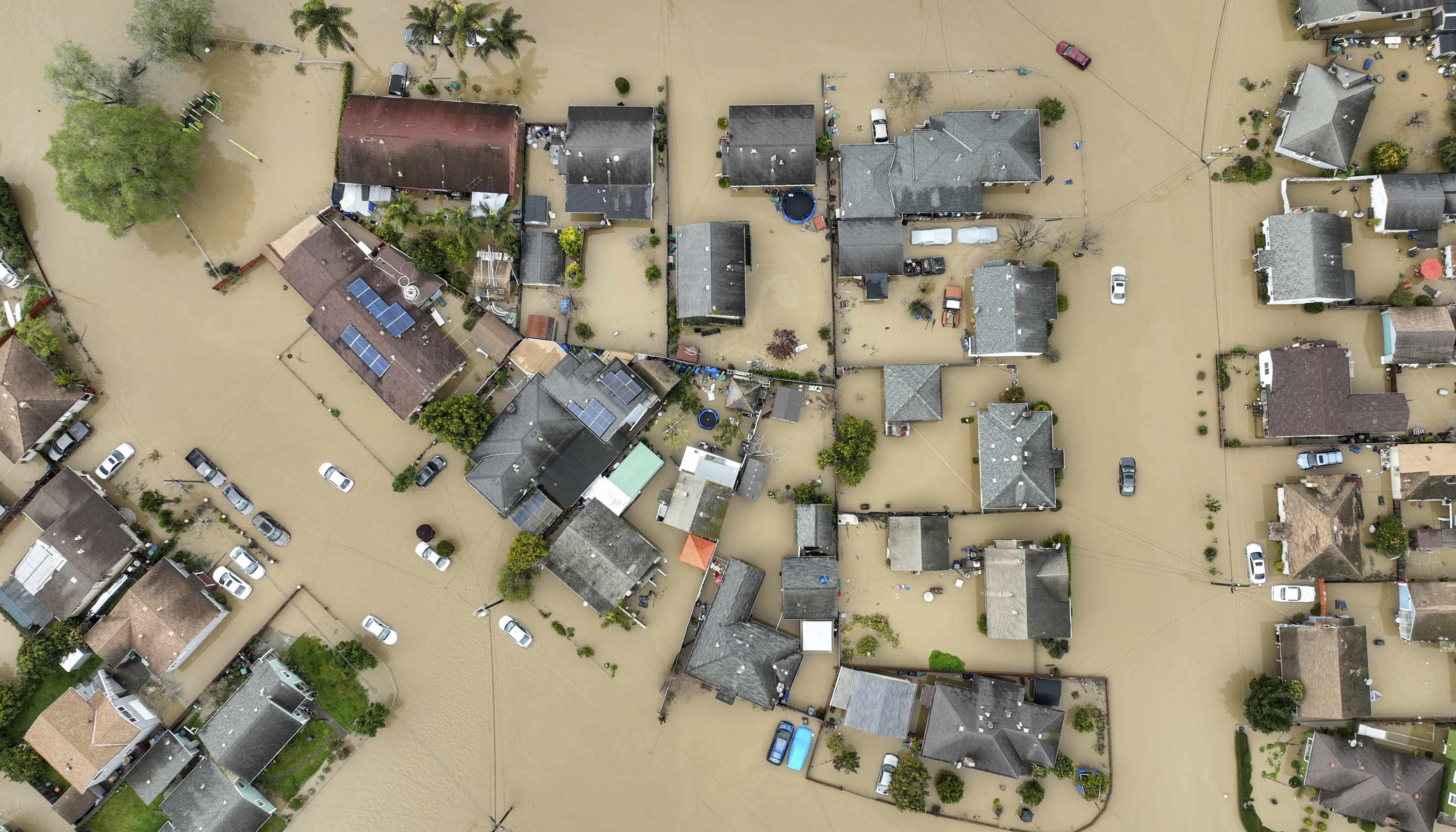 By Elvia Limón, Kenya Romero
Hello, it's Tuesday, March 14, and here are the stories you shouldn't miss today:
TOP STORIES
Storms reveal growing weaknesses of California levees
The levee breach on the Pajaro River that left an entire California town underwater this weekend is putting a spotlight on how a vital flood control system has been weakened by age, drought, climate change, rodents and neglect, leaving scores of communities at risk.
For decades the levee was ignored by the federal government, despite repeated pleas, breaches, floods and even two deaths.
It's a situation not unique to Pajaro, but to levee systems across the state and country.
Another atmospheric river to hit storm-soaked California
An atmospheric river storm bearing down on California will drop more rain and snow this week, sparking fresh concerns about additional flooding and snowmelt in the already soaked state.
The storm, which originated near Hawaii, is expected to intensify into Wednesday. It will create "considerable flooding impacts below 5,000 feet elevation across much of the California Coast and Central Valley and over the southern Sierra Nevada foothills," the National Weather Service said.
Biden says banking system is safe, promises accountability
President Biden said that the U.S. banking system is "safe and secure" after the failure of Silicon Valley Bank and the closure of Signature Bank last week.
But though the system as a whole may prove safe, the danger remains that liquidity issues now confined to a few medium-size banks could crop up at similar banks, putting their depositors and investors at risk and widening the circle of economic fallout.
More about SVB

Financial turmoil has some people wondering if a systemic problem is putting all banks in peril, as in the Great Recession. Experts say that isn't the case.
San Bernardino County residents are still digging out
Many residents in San Bernardino County's mountains are still far from back to normal, even more than two weeks after the historic snowstorms brought unprecedented snowfall.
Concern in the mountains remains, especially after roads reopened to the public this weekend, prompting hundreds of angry comments on the California Department of Transportation's Facebook announcement.
Democrats keep pushing to bolster California's role as an abortion sanctuary
Democratic lawmakers have introduced a package of bills to further bolster California's role as an abortion haven after last year's repeal of the landmark Supreme Court ruling Roe vs. Wade.
Though Gov. Gavin Newsom signed several laws last year to expand abortion access in California in response to the Supreme Court's decision, Democratic legislators said more are needed this year to protect the privacy of people seeking abortions, safeguard abortion providers and expand insurance coverage.
Sign up for our California Politics newsletter to get the best of The Times' state politics reporting and the latest action in Sacramento.
Our daily news podcast
If you're a fan of this newsletter, you'll love our daily podcast "The Times," hosted every weekday by columnist Gustavo Arellano, along with reporters from across our newsroom. Go beyond the headlines. Download and listen on our App, subscribe on Apple Podcasts and follow on Spotify.
PHOTO OF THE DAY
CALIFORNIA
A new zero-emissions ferry is to begin operating in San Francisco. The 70-foot catamaran is believed to be the first commercial maritime vessel in the United States powered entirely by hydrogen fuel cells, officials said.
Biden, U.K. and Australia unveil submarine security pact during a historic San Diego visit. The nation will step up plans to provide Australia with submarines to help offset efforts by China to control access to trade and passage in the Indo-Pacific.
Beloved Sierra lodge is destroyed by a possible gas fire after the historic winter storms. The Ponderosa Lodge was destroyed in a fire that may have started when a chunk of ice fell off the roof and damaged a propane line. Heavy snow blocked fire crews from responding.
Support our journalism
Subscribe to the Los Angeles Times.
NATION-WORLD
Death toll climbs as record-breaking Cyclone Freddy slams Malawi and Mozambique. Record-breaking Cyclone Freddy has killed at least 56 people in Malawi and Mozambique since it struck southern Africa a second time Saturday night.
Biden approves huge Willow oil-drilling project in Alaska. The Biden administration said Monday that it is approving the controversial major Willow oil project on Alaska's petroleum-rich North Slope, one of the president's most consequential climate choices and a decision that is likely to draw condemnation from environmentalists.
Masks stay put in Japan as three-year request to wear them ends. Japan dropped its request for people to wear masks after three years, but hardly anything changed in the country that has had an extremely high regard for their effectiveness at anti-virus protection.
Iran says 22,000 people arrested in anti-government protests have been pardoned. Iran announced that the country's supreme leader has pardoned more than 22,000 people arrested in the recent anti-government protests sweeping the Islamic Republic.
HOLLYWOOD AND THE ARTS
The must-see 2023 Oscars moments. Check out slap references, some course correction and other must-see moments — including animal attractions — from the 95th Academy Awards here.
The best fashion from the Oscars red carpet. Here are the best looks from the 2023 Oscars: from Lady Gaga to Mindy Kaling.
'Twilight' once showed L.A. how to heal. Now it's showing us we're still broken. Thirty years after its premiere at the Mark Taper Forum, the seminal play on the 1992 uprising after the LAPD's beating of Rodney King is back in L.A.
Rolly Crump, Disney designer who helped define the look of Disneyland, dies at 93. Crump, who was instrumental in the design of early Disneyland, died Sunday in his Carlsbad home, where he had been in hospice care, said his son.
BUSINESS
Bank stocks plunge and S&P 500 swings as Wall Street shakes. Wall Street is worried about what may be next to topple following the second- and third-largest bank failures in U.S. history, and stocks are swinging sharply as investors scramble to find a safe place to park their money.
First Republic shares sink in sign of broadening Silicon Valley Bank contagion. The turmoil after the collapse of Silicon Valley Bank continued to spread Monday, with First Republic Bank shares falling a record 78% at the open despite efforts by the U.S. regional lender to reassure investors on its liquidity.
SPORTS
The World Baseball Classic is a success again. The show was a smashing success for the World Baseball Classic, in its fifth iteration and first since 2017. But the best U.S. pitchers stayed away.
Austin Ekeler seeks permission from Chargers to speak to other teams. Austin Ekeler's agent says the Chargers running back is frustrated with the pace of extension talks and is seeking permission to talk to other teams.
USC earns No. 10 seed and first-round matchup with No. 7 Michigan State in East region. USC earned its third straight berth into the NCAA men's basketball tournament. The Trojans will play Michigan State on Friday in Columbus, Ohio.
Free online games
Get our free daily crossword puzzle, sudoku, word search and arcade games in our new game center at latimes.com/games.
OPINION
Finally, more housing for homeless veterans opens on the VA campus, but there's still problems. The VA is finally making progress on building housing on its West L.A. campus for homeless veterans, but it could still go faster. Here's how.
Who profits from Southern California's high gas bills? California's natural gas and gasoline are both traded on opaque wholesale markets. The Legislature and FERC should make them more transparent to deter gouging.
ONLY IN L.A.
Daniel Boulud to open Café Boulud in L.A., his first West Coast restaurant. The iconic and prolific French chef behind two-Michelin-starred Daniel in New York just announced a forthcoming Beverly Hills restaurant — his first West Coast location in his 50-year-plus culinary career. In late 2023 or early '24, Boulud is expected to open his lauded Café Boulud at the base of the Mandarin Oriental Residences, where he will also oversee a members-only dining program for the luxury condominium complex, including a poolside lounge.
FROM THE ARCHIVES
Born on March 14, 1879, Albert Einstein would have marked his 144th birthday today.
Einstein was perhaps the greatest thinker of the 20th century, but like many L.A. newcomers, he relaxed in the California sun, hobnobbed with Hollywood celebrities and watched the Rose Parade. He even helped children with their homework.
Seldom has a scientist won such public acclaim as Albert Einstein when he wintered in Pasadena in 1931, 1932 and 1933. An amateur violinist, he played one-on-one with the conductor of the Los Angeles Philharmonic. Local artists painted his portrait, sculpted him in bronze, and turned him into a puppet figure. Master violin maker Frank J. Callier carved a bow and special case with Einstein's name inlaid in the wood.
But the FBI was watching too. He was one of four German scientists to sign an antiwar petition during World War I, and he joined the Zionist movement, which called for Jews to regain their biblical homeland in Palestine.
We appreciate that you took the time to read Today's Headlines! Comments or ideas? Feel free to drop us a note at headlines@latimes.com.