L.A. County to end COVID emergency declaration
Today's Headlines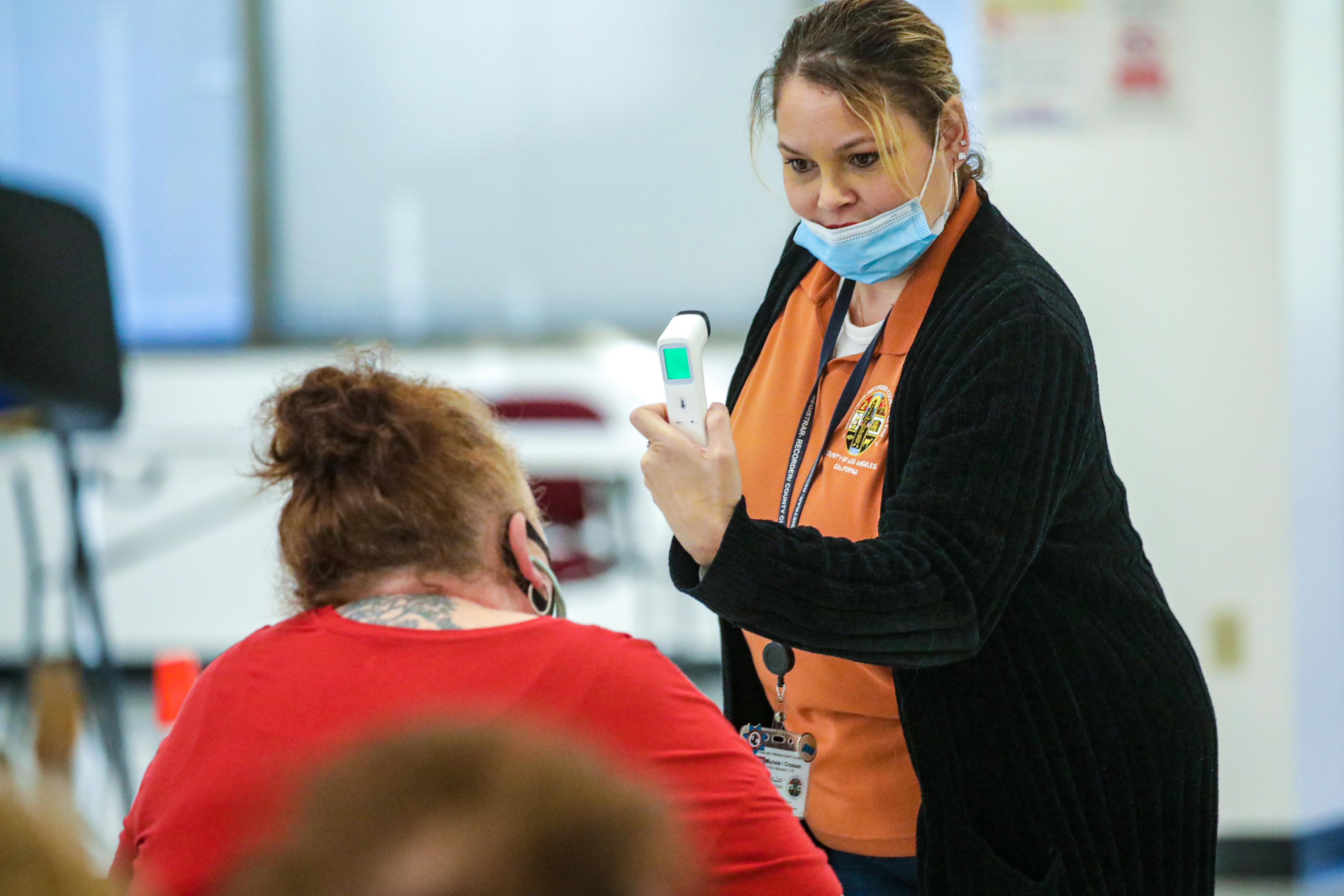 By Kenya Romero, Elvia Limón
Hello, it's Wednesday, March 1, and here are the stories you shouldn't miss today:
TOP STORIES
L.A. County to end COVID-19 emergency on March 31
Los Angeles County will end its COVID-19 emergency declaration at the end of March — the latest region to take that step amid stabilizing and improving pandemic conditions.
The move, approved unanimously Tuesday by the county Board of Supervisors, came the same day Gov. Gavin Newsom formally rescinded the three-year-old statewide emergency declaration.
Stay up to date on variant developments, case counts and vaccine news with Coronavirus Today.
Supreme Court casts doubt on Biden's student loan plan
The Supreme Court's conservatives gave a sharply critical hearing to President Biden's plan to forgive more than $400 billion in student loans, arguing that only Congress could approve such a large amount of federal spending.
"We are talking about a half-trillion dollars and 43 million Americans," Chief Justice John G. Roberts Jr. told Solicitor Gen. Elizabeth Prelogar, who was defending the administration. "We take separation of powers very seriously," he said, yet Congress had not approved this spending. "And you say there is no role for us to play," he added.
More politics

Sign up for our California Politics newsletter to get the best of The Times' state politics reporting and the latest action in Sacramento.
L.A. County moves toward mandatory quake retrofits
Los Angeles County has taken the first step toward a mandatory earthquake retrofit order for the types of concrete buildings that collapsed catastrophically in the devastating earthquakes that shook Turkey and Syria, causing many of the 50,000 deaths tallied so far.
The Board of Supervisors has voted unanimously to ask officials to prepare new rules that would require "non-ductile" concrete buildings owned by the county, as well as any located in unincorporated areas, to be retrofitted. Once the new rules go into effect, building owners would have 10 years to complete the retrofits.
$150,000 for a guard dog? L.A.'s rich are snapping them up
Guard dogs costing six figures are in high demand in L.A.'s wealthier precincts. The elite animals — typically German shepherds, Belgian Malinois, Dobermans, cane corsos or a mix of those breeds — are marketed under names such as "personal canine bodyguards" and "executive protection dogs."
Amid a spate of high-profile crimes in upscale parts of Los Angeles, they have become highly sought after among the rich, many of whom worry about being targeted.
Our daily news podcast
If you're a fan of this newsletter, you'll love our daily podcast "The Times," hosted every weekday by columnist Gustavo Arellano, along with reporters from across our newsroom. Go beyond the headlines. Download and listen on our App, subscribe on Apple Podcasts and follow on Spotify.
PHOTO OF THE DAY
CALIFORNIA
L.A. County agrees to a $28.85-million settlement with the Bryant family over crash photos. The settlement agreement concludes three years of litigation that began after deputies shared graphic photos of the 2020 helicopter crash that killed Kobe Bryant, his daughter and seven others.
As help pours in for a World War II vet, 102, with a huge bill, SoCalGas wants a rate hike. Paul Hult, 102, reluctantly accepts help for his gas bill as SoCalGas customers rage against a rate hike request.
L.A. teachers union reelects its leader amid a push for a 20% raise, smaller classes and family aid. The heavy favorite, Cecily Myart-Cruz won a second three-year term with 75.5% of the vote.
A family files a claim against the Upland school district, alleging Black kids were targeted with racist abuse. The claim comes a week after a series of racist incidents at Pepper Tree Elementary School sparked outrage from parents.
Black and Latino homeless people rank lower on L.A.'s housing priority list. In 2021, 67% of unhoused white young adults were in the highest-priority group, compared with 56% of Latino young adults and 46% of Black young adults, a survey finds.
Support our journalism
Subscribe to the Los Angeles Times.
NATION-WORLD
President Vladimir Putin orders the tightening of the border with Ukraine after drones hit deep inside Russia. Regional officials in southern and western Russia reported a string of drone attacks near the border with Ukraine and deep inside the country.
China says it's been honest about COVID origins. China says it's been "open and transparent" about the origins of COVID-19 as questions about how the pandemic began are back in the spotlight.
Canada bans TikTok on all government mobile devices. Canada has become the latest country to ban TikTok from all government-issued mobile devices, reflecting widening worries among Western officials over the Chinese-owned video-sharing app.
HOLLYWOOD AND THE ARTS
L.A. Phil's 2023-24 season lineup celebrates the 20th anniversary of Walt Disney Concert Hall. Walt Disney Concert Hall, the Frank Gehry-designed home of the Los Angeles Philharmonic, celebrates its 20th anniversary this year with a 2023-24 season that will pay tribute to the hall and its architect.
Scott Adams got axed for remarks seen as racist. "Dilbert" cartoonist Scott Adams says there is a familiar story line behind the wave of consequences that hit him over the weekend after he made remarks that some people and companies, including the Los Angeles Times, deemed racist. Adams was axed by newspapers, his syndicate and his book publisher.
Savannah Guthrie exits 'Today' mid-broadcast and tests positive for the coronavirus — again. Sheinelle Jones explained that her "Today" colleague Savannah Guthrie "left early" because she "wasn't feeling great." Turns out she had COVID-19.
Chris Rock's live Netflix special taps several comedy greats, from Sykes to Seinfeld. Netflix revealed new details about Chris Rock's live comedy special, which will premiere Saturday on Netflix and will be available to watch later on the platform.
BUSINESS
Hyundai was poised to become Tesla's top contender. Then the U.S. government blindsided it. Hyundai's and Kia's popular new EVs are turning heads and sales were skyrocketing — until the Inflation Reduction Act took their customer rebates away.
Nissan recalls more than 800,000 SUVs because of a defect that can shut off the engine. Nissan is recalling more than 809,000 small SUVs in the U.S. and Canada because a key problem can cause the ignition to shut off while they're being driven.
Mexico's president says Musk will build Tesla EV plant in northern Mexico. Tesla will build a new plant in Monterrey, Mexico, the nation's president announced, ending weeks of speculation over where the maker of electric cars would choose to operate in the country.
SPORTS
Five friends ski the tallest mountain in Los Angeles. Andy Lewicky devotes himself to a peculiar hobby — discovering hidden spots for backcountry skiing in the mountains of drought-plagued Southern California. Could an epic cold front offer something truly extraordinary, an opportunity to charge down the slopes with a view of downtown in the distance?
Dodgers shortstop Gavin Lux has torn ACL and is expected to miss 2023 season. Dodgers manager, Dave Roberts, announced that Gavin Lux has suffered a torn ACL in his right knee and is expected to miss the entire season.
How Haley Hallgren overcame a cancer scare to thrive for UCLA beach volleyball. Haley Hallgren, a national champion in beach volleyball at USC, had half of her left lung removed because of cancer in 2022 but now plays for No. 1 UCLA.
Free online games
Get our free daily crossword puzzle, sudoku, word search and arcade games in our new game center at latimes.com/games.
OPINION
Ousting L.A. County's chief probation officer isn't enough. Yes, Adolfo Gonzales, Los Angeles County's chief probation officer, has to go, but the systemic problems at the Los Angeles County Probation Department's Juvenile Division will not be solved by merely replacing one more department chief. It requires a radical intervention — a takeover by the U.S. Department of Justice, for example, or state legislation that allows the county to transfer operation of halls and camps.
Guns are the biggest public health threat kids face. Why aren't we warning them? Ad campaigns made smoking uncool. The gun violence epidemic deserves the same treatment.
ONLY IN L.A.
These coffee drinks pay homage to Black culture and the city of L.A.
You step inside a coffee shop and are greeted not just with a sign that proudly declares "Black-owned" but also with an iconic R&B soundtrack that cycles through artists like Erykah Badu, Thundercat and Sade; local art that depicts the busiest avenues in Black L.A.; and a bustling scene of remote workers and neighborhood folks.
Seven years ago, there was only one place like this in L.A. Today, there are more than 20 Black-owned coffee shops, shifting the coffee culture at large by centering community and reclaiming coffee's origins in Black, brown and Indigenous regions.
FROM THE ARCHIVES
It's been 26 years since the El Niño winter storm hit California. El Niño-fueled rains began striking Los Angeles in February 1998, with 13.68 inches of rain in downtown Los Angeles that month — almost a year's worth of rain. It was the wettest February since records began for L.A.
Over the next few months, a relentless string of storms caused havoc, washing away roads and railroad tracks, overflowing flood control channels, causing 17 deaths and more than half a billion dollars in damage in California.
Forward to today, California was hit with yet another winter storm, adding to what has become an unusually cold and wet season that some experts say has the chance to become one of the snowiest on record if conditions continue.
Los Angeles is on track to experience its longest cold snap in almost 20 years this week.
We appreciate that you took the time to read Today's Headlines! Comments or ideas? Feel free to drop us a note at headlines@latimes.com.