LAUSD prepares for a three-day strike
Today's Headlines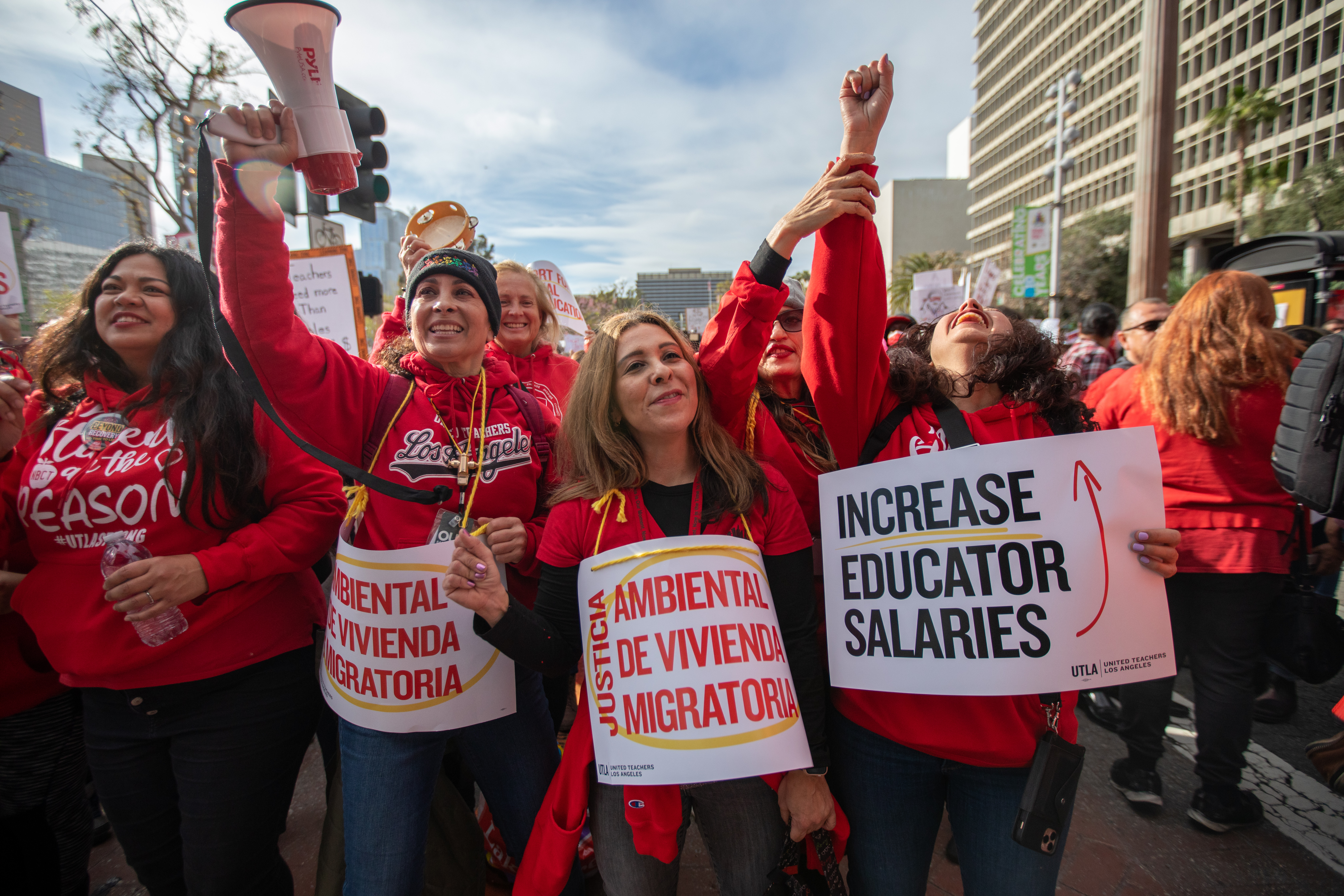 By Elvia Limón, Kenya Romero
Hello, it's Friday, March 17, and here are the stories you shouldn't miss today:
TOP STORIES
LAUSD prepares students, families for a three day strike
A day after unions representing both teachers and staff announced a three-day strike starting Tuesday, the nation's second-largest school system is scrambling to prepare for what is anticipated to be a shutdown of some 1,000 campuses — while at the same time, trying to prevent the massive walkout.
Schoolwork won't be graded. Essential meals for children might be provided — from some place yet to be determined. Child-care? That will be a challenge.
There is a lot to do — and a lot that won't be doable.
Los Angeles plans to help stabilize Skid Row Housing Trust buildings
The degraded state of the Sanborn Hotel Apartments is apparent from the sidewalk. It's one of the 29 buildings owned by Skid Row Housing Trust, a nonprofit that has for more than 30 years been a paragon of homeless housing. But the very model that helped it revive some of downtown's oldest hotels is now bringing it down.
Earlier this year, leaders of the trust disclosed deepening financial shortfalls that made the upkeep of those buildings impossible. Their solution, guided by the Los Angeles Housing Department, was to turn the entire portfolio over to other housing organizations, a process that at best would take months of difficult negotiations.
Related stories

As drought retreats across California, flood risk rises
Though California may be ending its winter with quenched reservoirs and near record snowpack, meteorologists are warning that the state will face increased flooding risk in the coming months as Sierra Nevada snowmelt fills rivers and streams.
On Thursday, the National Oceanic and Atmospheric Administration's spring flood outlook reported that drought conditions will continue to improve in much of the state, but the potential for flooding will worsen in the face of heavy snowpack and elevated soil moisture.
More about the storm

After Russian soldiers' atrocities, a town wants justice
While under Russian occupation in the early days of the war, the town of Bucha, Ukraine was the scene of what rights groups and investigators describe as a systematic campaign of killings and torture of Ukrainian civilians.
In all, close to 500 people died in Bucha. Even now, a full year later, another body turns up from time to time in the vicinity, unearthed from a forlorn grave or recovered from a storm drain.
More than 71,000 investigations have been opened into suspected Russian war crimes inside Ukraine. What are the prospects for justice?
Our daily news podcast
If you're a fan of this newsletter, you'll love our daily podcast "The Times," hosted every weekday by columnist Gustavo Arellano, along with reporters from across our newsroom. Go beyond the headlines. Download and listen on our App, subscribe on Apple Podcasts and follow on Spotify.
PHOTO OF THE DAY
CALIFORNIA
A landlord who was arrested in a murder-for-hire plot is now accused of trying to set fire to his building. Arthur Aslanian was accused of trying to hire someone to kill a banker and an attorney to avoid paying his debts. Federal prosecutors allege he also tried to set fire to his own building during an ongoing dispute with tenants.
Former L.A. deputy mayor seeks mistrial in City Hall corruption case. Ex-L.A. Deputy Mayor Raymond Chan urges a judge to declare a mistrial in his bribery and racketeering case, citing his attorney's unexpected hospitalization.
Forced to live in horse stalls. How one of America's worst injustices played out at Santa Anita. Japanese Americans were held at the race track before being shipped to incarceration camps. Letters from Darrell Kunitomi's uncle reveal the indignities of living there.

Support our journalism
Subscribe to the Los Angeles Times.
NATION-WORLD
Alzheimer's escapees: Seeking clues from the few who avoid their genetic fate. Scientists are digging into why a few people escape the rarest form of Alzheimer's, which is inherited and strikes young.
Britain becomes the latest to ban TikTok on government phones. British authorities say they're banning TikTok from government cellphones on security grounds, following similar moves by the U.S. and European Union.
Poland plans to grant Ukraine's urgent pleas for fighter jets. Poland's leader says his country plans to give Ukraine about a dozen MiG-29 fighter jets to fulfill Kyiv's increasingly urgent requests for warplanes.
HOLLYWOOD AND THE ARTS
Jen Psaki will now ask the questions on MSNBC. The former press secretary for President Biden takes on a new role as a Sunday cable news host of a show that will also be available on NBC's Peacock streaming service.
Retired celebrity stylist Law Roach is not 'breaking up' with Zendaya. After now-former celebrity stylist Law Roach announced his retirement, some speculated online that the dynamic fashion duo had a falling out that led to Roach's departure from celebrity styling. But that's not true, he said in a series of tweets.
The 50 best true-crime documentaries you can stream right now. TV critic and true-crime buff Lorraine Ali selects the 50 best true-crime documentaries you can stream on Netflix, HBO Max, Hulu, Prime Video and more. Check them out here.
BUSINESS
The FCC is cracking down on scammy robotexts. What does that mean for you? The Federal Communications Commission adopted a rule requiring mobile phone companies to block "highly likely to be illegal" texts, including those from nonworking numbers.
Unwanted Uber Eats food deliveries vex Highland Park neighborhood. For more than two weeks, residents on a street in Highland Park have received unsolicited Uber Eats deliveries from McDonald's and Starbucks, creating a confusing whodunit.
SPORTS
David Singleton is UCLA's hype man, and much more. The ritual that has made the Bruins unbreakable no matter how many players are injured starts with a veteran hype man—David Singleton, the senior sharpshooter—who understands exactly what he's pitching.
Mike Trout and Mookie Betts argue Edwin Díaz's injury shouldn't dim support for WBC. Puerto Rico closer Edwin Díaz, moments after closing out the Dominican Republic to advance to the quarterfinals, sustained a right knee injury during the team's celebration. Mike Trout and Mookie Betts say they are having fun playing in the WBC and Díaz's "fluke" injury shouldn't limit player participation.
How USC women built the best defense in program history. USC's defense is a perfect combination of personnel, planning and passion. It's why the Trojans are in the NCAA basketball tournament for the first time since 2014.
Free online games
Get our free daily crossword puzzle, sudoku, word search and arcade games in our new game center at latimes.com/games.
OPINION
Ambassador Garcetti breaks the curse on L.A. mayors' political ambitions. Being mayor of L.A. has been a dead-end job for decades. By finally snagging himself a plum political appointment, Garcetti has bucked history.
A strike that shuts down schools is bad for Los Angeles. Negotiations between Los Angeles Unified and the union for low-wage district staff must not fail. The education of 420,000 students is at stake.
YOUR WEEKEND
Giant sequoias, desert land and alpine peaks? California's 280 state parks have it all. California's state park system offers 3,000 miles of trail and terrain from beaches to badlands, Joshua trees and more. Access many parks for free and stamp your digital passport. Check them out here.
25 restaurants, hotels and hidden wonders along the Baja Highway. Cave paintings. Missions. A lagoon where gray whales gather. Whether you're taking on the whole highway or targeting one stretch, the landscape is full of revelations.
You can now ride a railbike along a 17-mile track through scenic Ventura County. Fresh air, mountains and citrus — no pedaling required. That's what you'll find on a ride on the Sunburst railbike route through Santa Clara River Valley.
WHAT OUR EDITORS ARE READING
Note: Some of the sites we link to may limit the number of stories you can access without subscribing.
'Terrifying' plastic rocks were found on a remote Brazilian island. Melted plastic has become intertwined with rocks on the island, which researchers say is evidence of humans' growing influence over geological cycles. NBC News
Only 2 people alive can speak the Caddo language fluently. They hope a new program can save it. The origin of the word "Texas" comes from the Caddo word "tay-sha" which means "friend." Today, the Caddo Nation of Oklahoma is in a race against time to save what's left of their critically endangered language. KERA
How TikTok went from teen sensation to political pariah. In the seven years since TikTok was born as a niche lip-syncing app for Chinese teens, the platform has reshaped the media landscape — forcing U.S. tech giants to reckon with a foreign rival. Here's how TikTok went from a teen sensation to Washington's boogeyman. Washington Post
FROM THE ARCHIVES
It's St. Patrick's Day! Celebrated on the 17th of March, many people around the world take part in annual parades, dress up or go out for the occasion.

We appreciate that you took the time to read Today's Headlines! Comments or ideas? Feel free to drop us a note at headlines@latimes.com.