Mandatory water restrictions lifted in SoCal
Today's Headlines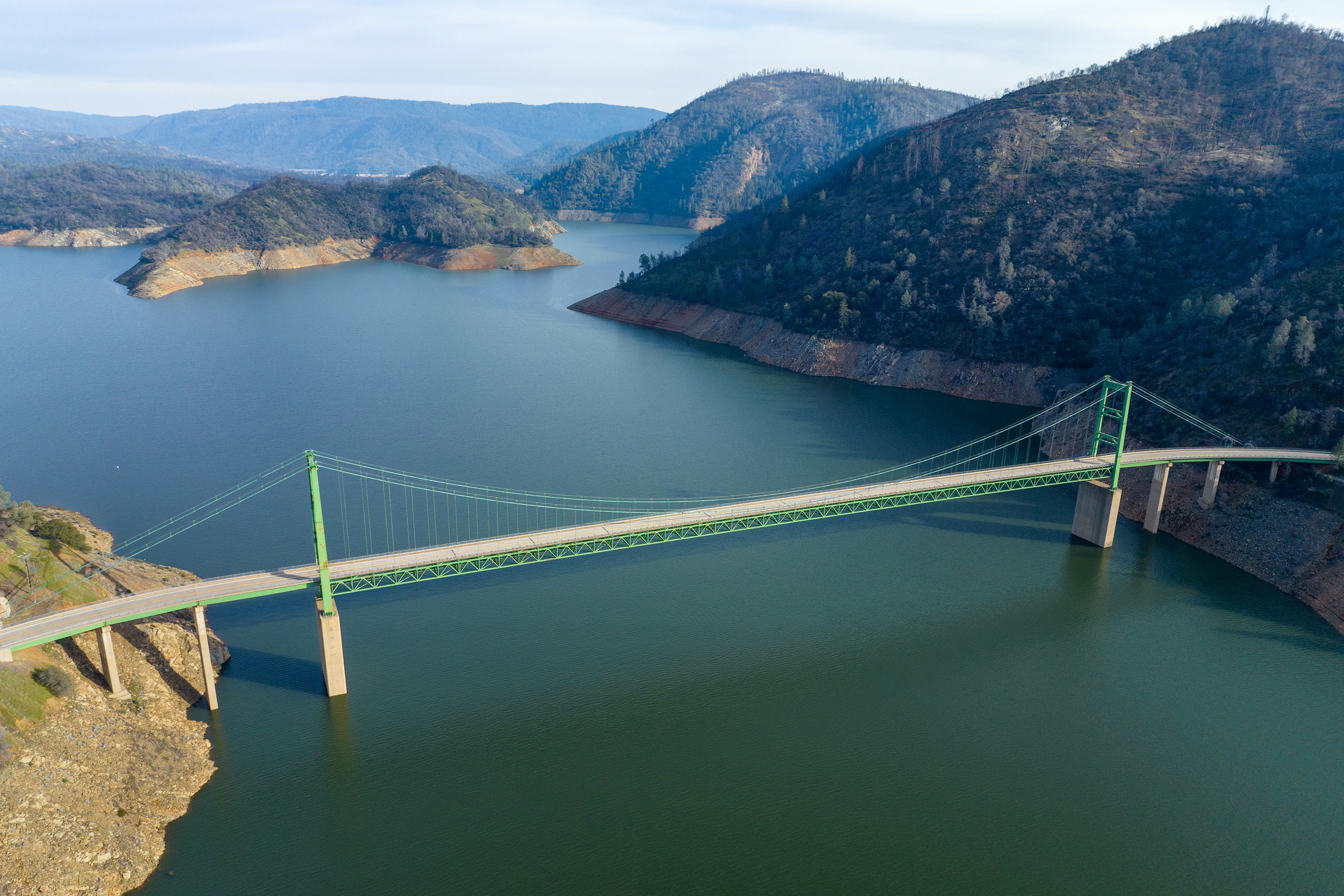 By Elvia Limón, Kenya Romero
Hello, it's Thursday, March 16, and here are the stories you shouldn't miss today:
TOP STORIES
Mandatory water restrictions lifted in Southern California
Mandatory water restrictions are being lifted for nearly 7 million people across Southern California following winter storms that have boosted reservoirs and eased a severe shortage that emerged during the state's driest three-year period on record.
The board of the Metropolitan Water District of Southern California decided to end the emergency conservation mandate for agencies in portions of Los Angeles, Ventura and San Bernardino counties that depend on supplies from the State Water Project.
Officials said the change reflects improvements in the available supplies, but they urged residents and businesses to continue conserving.
LAUSD teacher and staff strike set for Tuesday, closing schools
A three-day strike that would shut down Los Angeles public schools is scheduled to start Tuesday, union leaders announced Wednesday during a massive downtown rally by the district's two largest employee groups.
The anticipated walkout of as many as 65,000 workers would represent the largest and longest full disruption of education in the nation's second-largest school system since the six-day teachers' strike of 2019.
Evacuations near California dam as storm breaks rainfall records
The 11th atmospheric river storm of the season left a trail of soggy misery in California as it broke decades-old rainfall records and breached levees this week.
In the Tulare County city of Porterville, residents on both sides of the Tule River were ordered to evacuate as levels rose at Lake Success, sending water running over the spillway at Schafer Dam.
Lake Success saw a significant increase in inflows overnight. Visalia and Porterville have declared a state of emergency.
More about the storm

Eric Garcetti finally got the ambassadorship he wanted
It took nearly two years, but former Los Angeles Mayor Eric Garcetti finally got the job.
The Senate voted 52 to 42 to confirm Garcetti as the next U.S. ambassador to India. Seven Republicans joined all but three Democrats present in approving him for the post.
Ultimately, Biden's unflinching loyalty to Garcetti probably saved the former mayor's confirmation.
Sign up for our California Politics newsletter to get the best of The Times' state politics reporting and the latest action in Sacramento.
Unwanted Uber Eats food deliveries vex Highland Park in L.A.
Since late February, a stretch of Range View Avenue in Highland Park has been inundated with unwanted deliveries from Uber Eats, the online food delivery service. The items, residents said, have mostly come from McDonald's and Starbucks, though a few other fast-food chains have been represented too.
Six Range View residents interviewed by The Times said they had received several Uber Eats deliveries of food they did not request — and that many of their neighbors had too. A handful of people said they have gotten dozens of orders.
Now, though, it has become, for at least some, a nuisance.
Our daily news podcast
If you're a fan of this newsletter, you'll love our daily podcast "The Times," hosted every weekday by columnist Gustavo Arellano, along with reporters from across our newsroom. Go beyond the headlines. Download and listen on our App, subscribe on Apple Podcasts and follow on Spotify.
PHOTO OF THE DAY
CALIFORNIA
The University of Southern California opens a campus in Washington to expand its presence in the nation's capital. The 60,000-square-foot building, for which USC paid $49.4 million, will play host to "high-level conversations" between opinion leaders and serve as a "hub for researchers and policy experts," officials said.
Los Angeles Councilmember Curren Price calls for the city to extend support for victims of LAPD's fireworks explosion. Price introduced a motion that would authorize $2.37 million to assist with housing for those whose homes were severely damaged. It follows heavy criticism of the councilmember, who recently told a Times reporter that some residents living in the Level Hotel downtown are "gaming the system a little bit."
Salmon fishing banned along California coast as population plummets. It's only the second time in history that the ocean salmon fishery has been closed in California, and the decision reflects a major decline in fish populations after the state's driest three-year period on record.
Support our journalism
Subscribe to the Los Angeles Times.
NATION-WORLD
Inside the 'Stop Cop City' forest camp, the latest epicenter of activism over policing. Atlanta officials say a new complex would 'reimagine' policing. Critics say it would train officers in urban warfare and destroy public woodlands.
Republican leaders in Texas announce takeover of schools in Houston, a Democratic-led city. Texas officials announced a state takeover of Houston's nearly 200,000-student public school district, the eighth-largest in the country, acting on years of threats and angering Democrats who assailed the move as political.
What we know — and don't — about the U.S. spy drone and Russian jet collision. When a Russian fighter jet collided with a large U.S. surveillance drone over the Black Sea, it was a rare but serious incident that triggered a U.S. diplomatic protest and raised concerns about the possibility that Russia could recover sensitive technology.
Online scammers find a fertile market in India as the internet spreads. India has long been home to online scammers targeting victims in far richer nations such as the United States. Now India is itself a target.
HOLLYWOOD AND THE ARTS
Check out your L.A. Times Festival of Books lineup. The Los Angeles Times has announced the lineup for this year's Festival of Books. See which authors are among the 500-plus set to participate.
Zendaya stylist Law Roach unexpectedly retires. Celebrity stylist Law Roach, who has dressed Zendaya, Shakira and Keke Palmer, said he has had it with 'the lies and false narratives.'
Queen rocker Brian May formally knighted by King Charles. Queen guitarist Brian May returned to Buckingham Palace to be knighted by King Charles III and officially join the order of the British Empire.
WWE stars Nikki and Brie Bella are no more. The former Nikki and Brie Bella, also known collectively as the Bella Twins, announced that they are leaving World Wrestling Entertainment and embarking on "a new chapter" — with new names.
BUSINESS
Companies are diversifying their corporate boards, but Latinos are left behind. Latinos are the nation's largest ethnic or racial minority with 18.9% of the population, yet few ascend to the pinnacle of U.S. corporate power: board member.
Ryan Reynolds gets a big payday. T-Mobile U.S. Inc. is buying Mint Mobile, the budget wireless provider part owned by actor Ryan Reynolds, for as much as $1.35 billion in an effort to bolster its prepaid phone business and reach more lower-income customers.
SPORTS
How Anthony Davis and Malik Beasley sparked the Lakers. They both were looking for some redemption for their poor play and both Anthony Davis and Malik Beasley delivered on their promise to be better for the Lakers the next time out. Davis had 35 points and 17 rebounds and the Lakers built a 36-point lead on their way to victory over the Pelicans.
Atonio Mafi NFL draft diary: 'I'm ready to show the scouts what I can do.' As offensive lineman Atonio Mafi transitions from UCLA to the NFL, he is sharing his journey with Times staff writer Ben Bolch through a weekly diary leading up to the April 27 draft. This week, Mafi discusses the importance of a good showing at the Bruins' pro day.
Garfield High students' spirit of achievement will stride through the L.A. Marathon. On Sunday, 2,500 students like Israel Hernandez, a cancer survivor, will run in the 38th edition of the Los Angeles Marathon as part of Students Run LA.
Free online games
Get our free daily crossword puzzle, sudoku, word search and arcade games in our new game center at latimes.com/games.
OPINION
'Blame Mexico' won't solve the crises of guns and fentanyl. After kidnappings of Americans, Mexico faulted the U.S. for ignoring the "serious problem of social decay." But U.S. lawmakers would rather talk about invading.
Reports of a rift between Kamala Harris and Elizabeth Warren play into Republican hands. Did the senator really insult the vice president? Did Harris really not accept her apology? Or is a misunderstanding being exploited to delegitimize women in politics?
ONLY IN L.A.
11 delicious ways to eat a salted egg in Los Angeles. The salted egg has long been a prized ingredient in Asian cuisines, punching up sweet and savory dishes with bursts of umami. Its buttery rich and briny yolk, which shines in vibrant hues of yellow and orange, is commonly found in Chinese mooncakes, rice porridge and zongzi (sticky rice dumplings). It's the ingredient of the moment in Los Angeles — chefs have even stuffed it into French toast and coated fried shimeji mushrooms with it. From Silver Lake to Pasadena, here's a guide to the best salted egg dishes in L.A.
FROM THE ARCHIVES
On this day in 1996, Mike Tyson won the World Boxing Council heavyweight champion title against Frank Bruno. Bruno was forced to face harsh reality after Tyson smashed him into submission 50 seconds into the third round before a sellout crowd of 16,693 at the MGM Grand Garden Arena.
"Mike Tyson was better than I thought," Bruno told a TV interviewer.
We appreciate that you took the time to read Today's Headlines! Comments or ideas? Feel free to drop us a note at headlines@latimes.com.