Officials were unprepared for mountain storms
Today's Headlines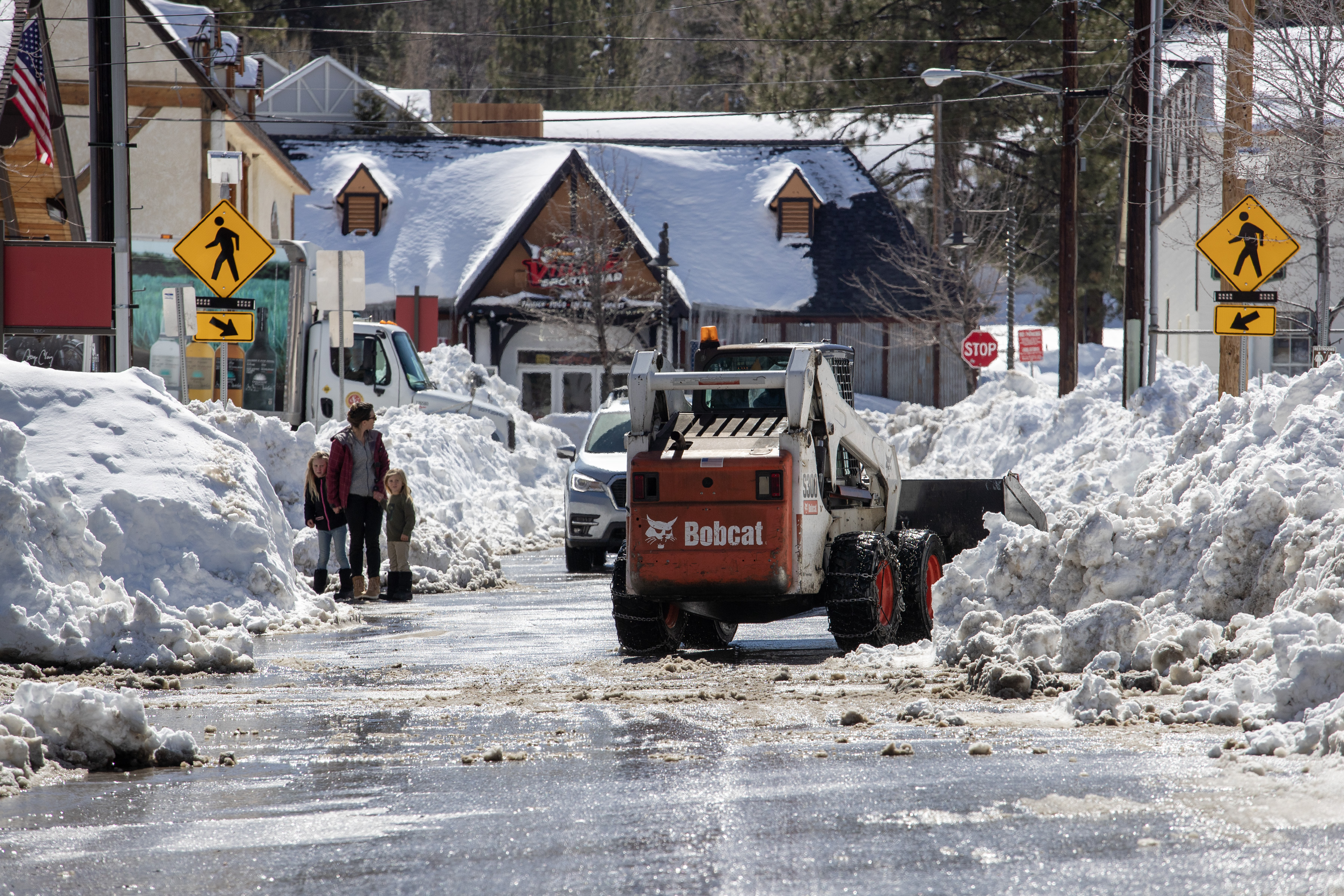 By Laura Blasey
Hello, it's Monday, March 6, and here are the stories you shouldn't miss today.
TOP STORIES
Officials were unprepared for epic mountain blizzard, leaving many trapped and desperate
San Bernardino County officials acknowledged that they were unprepared for back-to-back winter storms that swept through the mountains, leaving many residents stranded for more than a week amid gas leaks and diminishing food supplies.
Authorities said the volume and speed of accumulation rendered their snow plows ineffective.
A volunteer helicopter operation ferrying in supplies to beleaguered communities in the San Bernardino Mountains was shut down by authorities over safety concerns. Desperation among residents continued to grow Saturday, though other weekend deliveries were successful.
President Biden has quietly forgiven billions in student loans despite setbacks
At a time when Biden's plan to cancel up to $20,000 in debt for some borrowers is a nonstarter in Congress and at risk of being blocked by the Supreme Court, his administration has tried to bolster the existing web of programs, policies and regulations meant to protect student loan borrowers.
The Education Department has forgiven more than $18 billion through a program for applicants whose schools misled them or broke state law and those whose schools closed before they finished their degrees, including $5.8 billion for 560,000 Corinthian College students and $3.9 billion for 200,000 borrowers who were enrolled at ITT Technical Institutes.
California's antiquated water rights system faces new scrutiny
It's an arcane system of water law that dates back to the birth of California — an era when 49ers used sluice boxes and water cannons to scour gold from Sierra Nevada foothills and the state government promoted the extermination of Native people to make way for white settlers.
This system still governs the state's supplies, creating unequal access and subjecting different stakeholders to different sets of rules. A recent analysis found that the people who make decisions about California's water are overwhelmingly white and male.
As the Earth warms and cycles of drought worsen, a growing number of water experts, lawmakers, environmental groups and tribes are calling for change.
Arson destroyed a Black L.A. church last fall. Its members are still looking for answers
Founded in 1943 and named for the nation's hope in a time of war, Victory Baptist Church in South Los Angeles was the spiritual home for four generations of Black Angelenos, many of whom arrived during the Second Great Migration from the segregated South.
It was here that the Rev. Martin Luther King Jr. delivered calls for equality and justice.
But on Sept. 11, 2022, the church went up in flames. Its pastor and congregants are not only mourning — they're wondering how to rebuild in a changing city.
Our daily news podcast
If you're a fan of this newsletter, you'll love our daily podcast "The Times," hosted every weekday by columnist Gustavo Arellano, along with reporters from across our newsroom. Go beyond the headlines. Download and listen on our App, subscribe on Apple Podcasts and follow on Spotify.
OUR MUST-READS FROM THE WEEKEND
K-Pop isn't the only hot ticket in Koreatown — how 'trot' is captivating immigrants. Trot, a genre of Korean pop music, hearkens to the Japanese colonial era and has a Sinatra-like crooner sound. Its stars belt out ballads that appeal to a much older audience, with nostalgic lyrics about lost love and longing for one's homeland.
Los Angeles is suddenly awash in waterfalls. Recent storms have transformed Southern California's usually bone-dry wildlands into brilliant green landscapes, snow-capped mountains and something even more breathtaking: seldom-seen waterfalls.
Drew Barrymore is too much — and that's just right. Her kooky, untamed energy has made Barrymore — whose highly publicized career began when she was in diapers and has straddled two centuries — a star. Again. She talks about her talk show, divorce and quitting alcohol in a new column from The Times' Amy Kaufman.
CALIFORNIA
ICE detainees allege retaliation for speaking about medical conditions at Otay Mesa center. Advocacy groups say Immigration and Customs Enforcement frequently transfers people who have participated in complaints, spoken with media or organized hunger strikes about facility conditions.
San Diego police say now is the time for 'smart' cameras. Others ask: Why the rush? The department proposed installing 500 smart streetlights, complete with cameras that double as license plate readers.
At least 5 people shot at San Pedro beach. Police received a call at 5:44 p.m. Saturday reporting gunfire at Royal Palms Beach near Paseo del Mar and Graysby Avenue. Four people who had been shot were taken to local hospitals by emergency personnel, and a fifth was taken to a hospital by a friend.
Support our journalism
Subscribe to the Los Angeles Times.
NATION-WORLD
Arizona governor won't proceed with execution set by court. Gov. Katie Hobbs has vowed not to allow an execution that the state Supreme Court scheduled over the objections of the new attorney general. She also appointed a review of lethal injection drugs and protocols due to the state's history of mismanaging executions.
Biden's Selma visit puts spotlight back on voting rights. The president paid tribute to the heroes of "Bloody Sunday," attending the annual commemoration of the event that led to the passage of landmark voting rights legislation nearly 60 years ago.
Nations reach accord to protect marine life on high seas. An updated framework to protect marine life in the regions outside national boundary waters, known as the high seas, had been in discussions for more than 20 years, but previous efforts to reach an agreement had repeatedly stalled.
Stationmaster charged in Greece train crash that killed 57. The 59-year-old allegedly directed the two trains traveling in opposite directions onto the same track. He spent 7½ hours Sunday testifying about the events leading up to the crash before he was charged and ordered held.
HOLLYWOOD AND THE ARTS
Chris Rock's Netflix special packs a punch, despite some mistargets and the live gimmick. Despite the specter of last year's Oscars slap, Rock shows in his latest special that he remains worth listening to, because there's nothing casual about what he does, and most important, he knows how to craft and sell a joke, writes television critic Robert Lloyd.
Daisy Jones & the Six becomes the first fictional band to hit No. 1 on iTunes Charts. The fictional band is at the center of the Amazon Prime Video series of the same name. An album created for the series, "Aurora," accompanied the show's release last week.
At Rolling Loud California, Travis Scott makes a truncated return to the stage. Sound issues created a somewhat deflating end to what was supposed to be Scott's first full-scale U.S. concert since his ill-fated Astroworld festival in Houston in late 2021, when a crowd crush killed 10 people, leading him to be shunned by many in the music industry.
BUSINESS
Rupert Murdoch has survived scandal after scandal. Will the Dominion-Fox News lawsuit be different? It's not the first time a Murdoch media outlet has been accused of unethical conduct in pursuit of higher ratings or newspaper sales. The Fox News crisis poses the biggest threat to his company since the British phone-hacking scandal destroyed one of his London tabloids 12 years ago.
Work phones are making a comeback as offices ban WhatsApp and TikTok. Some industries, including finance and government, are increasingly concerned about data security, concluding that there's a potential conflict between work and employees' personal lives being conducted on the same devices.
SPORTS
UCLA falls to Washington State in the Pac-12 tournament championship game. Follow its stunning win over top-seeded Stanford, UCLA's women's basketball team couldn't complete a rally and lost 64-61 on Sunday.
There's a revolution in Southland prep sports: student-run broadcasting. A growing number of Southland high schools are pouring resources into student-run broadcasts and live streams of athletic events, aiming to encourage teens both on and off the court.
Free online games
Get our free daily crossword puzzle, sudoku, word search and arcade games in our new game center at latimes.com/games.
OPINION
The real and complicated reasons Los Angeles still has so many RV encampments. What makes these encampments challenging to address is not just a lack of resources — it's that many residents say they don't see themselves as homeless, writes columnist Erika D. Smith.
DeSantis wants to displace former President Trump as the GOP's 2024 nominee. But he has hurdles to overcome. Public opinion polls show DeSantis firmly in second place in a race he hasn't officially entered. The attention has made him a target for Trump and would-be opponents, writes columnist Doyle McManus.
ONLY IN L.A.
Don't forget to look up, or you may miss some of L.A.'s best sights. From historic stained-glass skylights to coffered domes to intricate murals, Los Angeles is full of beautiful ceilings. For The Times, Teena Apeles has put together a list of 32 places with spectacular ceilings, some of which have made considerable efforts to save these works of art.
FROM THE ARCHIVES
In 1966, administrators at Palisades High School were at odds with students over long hair. On March 4, the school barred 50 male students from attending classes until they returned with "appropriate haircuts." The decision prompted several days of protests as suspended students and their supporters gathered in front of the school with signs.
The Times covered the first day of protest, which was broken up by football players who had taken the side of the administrators. Read the 1966 story here.
We appreciate that you took the time to read Today's Headlines! Comments or ideas? Feel free to drop us a note at headlines@latimes.com.