Residents struggle to survive in Pajaro
Today's Headlines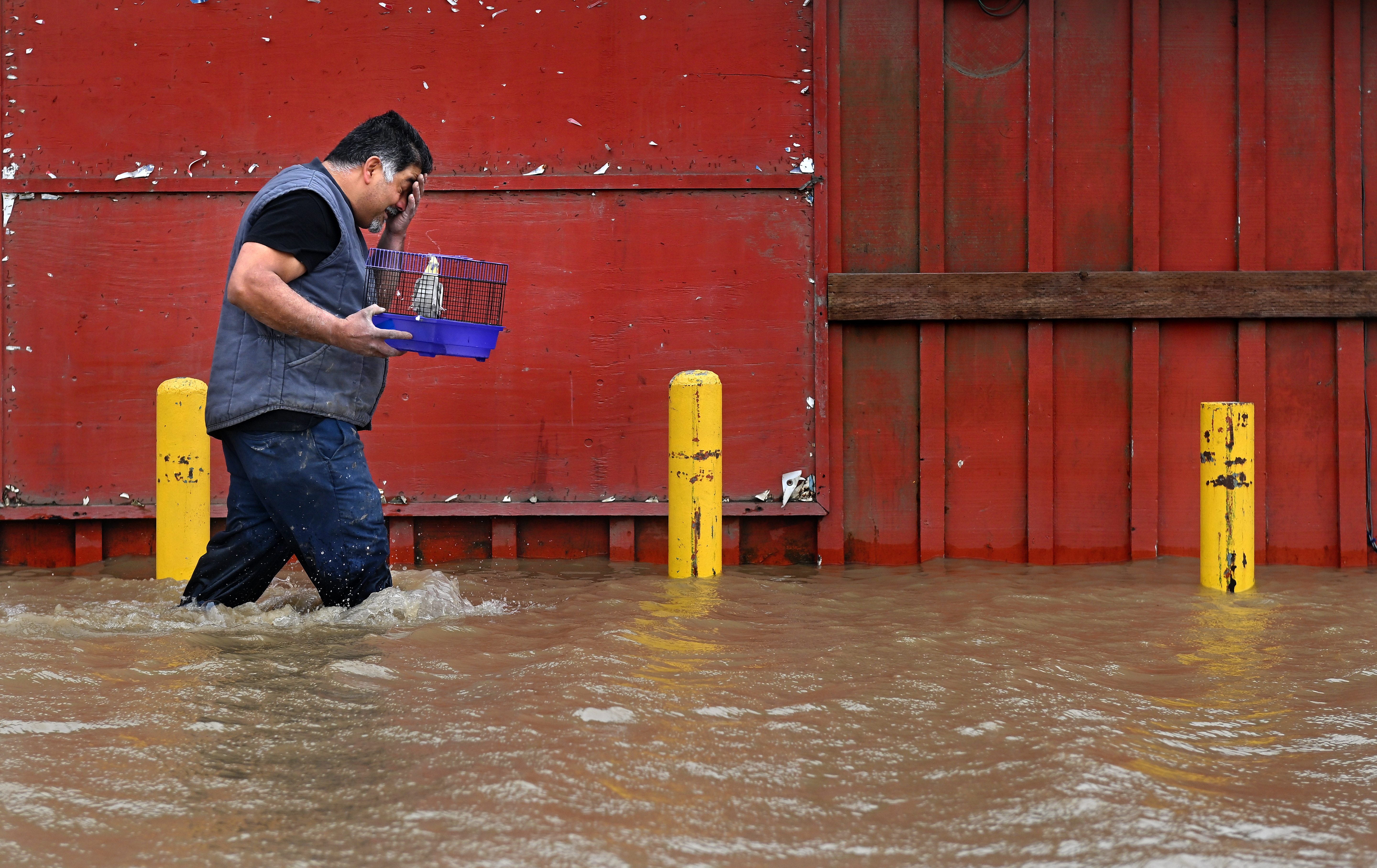 By Elvia Limón, Kenya Romero
Hello, it's Wednesday, March 15, and here are the stories you shouldn't miss today:
TOP STORIES
Residents struggle to survive in the flooded California town of Pajaro
Pajaro has in many ways become ground zero for the latest atmospheric river storm walloping California, the 11th of the season so far.
The storm has dropped even more rain and snow on the beleaguered state and sent thousands of residents racing from rising waters. By Tuesday evening, about 336,000 households were without power, and 70 flood watches and warnings were in effect.
The small town of about 3,000 people, many of them migrant farmworkers, may not recover for a long time.
More about the storm

L.A. riders bail on Metro trains amid deadly overdoses and crime
Drug use is rampant in the Metro system. Since January, 22 people have died on Metro buses and trains, mostly from suspected overdoses — more people than all of 2022. Serious crimes — such as robbery, rape and aggravated assault — soared 24% last year compared with the previous year.
Commuters have abandoned large swaths of the Metro train system. Even before the pandemic, ridership in the region was never as high as in other big-city rail systems.
Biden consoles Monterey Park over the mass shooting
President Biden has signed an executive order to curb gun violence and enhance background checks on firearms buyers, spending part of the afternoon consoling a Monterey Park community devastated by a mass shooting on the eve of Lunar New Year in January.
Biden's visit took place less than half a mile from a dance studio where 11 people were killed and nine wounded on the night of Jan. 21. The gunman moved onto another dance hall in Alhambra, where he was disarmed by Brandon Tsay.
More politics

Sign up for our California Politics newsletter to get the best of The Times' state politics reporting and the latest action in Sacramento.
L.A. care facility operators were charged in 14 COVID deaths
The operators of Silverado Beverly Place, an upscale Los Angeles care facility for dementia patients, were charged with felony elder abuse and other criminal counts related to the deaths of an employee and 13 residents during the early days of the pandemic.
The facility was meant to be closed to visitors, prosecutors said, when it admitted a patient from a New York psychiatric unit. Silverado Beverly Place's own protocols required it to not admit anyone from a high-risk area like New York City, which was considered an epicenter of COVID-19 at the time.
More top coronavirus headlines

Stay up to date on variant developments, case counts and vaccine news with Coronavirus Today.
Fixing California's student housing crisis faces roadblocks
As California's student housing crisis deepens, plans to build more campus apartments and dorms are facing myriad roadblocks that could delay the construction of thousands of urgently needed beds across the state's three public higher education systems.
Litigation blocking student housing projects, a potential delay in state funding and escalating construction and labor costs are posing formidable challenges to easing what students say is one of their most pressing needs.
Our daily news podcast
If you're a fan of this newsletter, you'll love our daily podcast "The Times," hosted every weekday by columnist Gustavo Arellano, along with reporters from across our newsroom. Go beyond the headlines. Download and listen on our App, subscribe on Apple Podcasts and follow on Spotify.
PHOTO OF THE DAY
CALIFORNIA
UCLA's 'informal mascot' Powell Cat has died. Some are calling for a memorial statue. The cat died at age 10 Thursday, ascending to kitty heaven, leaving behind earthly fans and friends grieving the loss of a campus mainstay.
Los Angeles schools would close if union workers go on a massive three-day strike, Supt. Carvalho says. The L.A. schools chief said it would be too hard to provide a safe environment for students if teachers and much of the support staff walked out simultaneously.
A Compton man used Grindr to target and rob more than 20 gay men, prosecutors say. Derrick Patterson has been charged with using the hookup site to lure the men into dates that tuned into robberies, sometimes at knife point, over the last two years.
Chevron hasn't complied with a new California gas pricing law. The law requires oil companies to report their monthly "gross refining margin," meaning the difference between how much refineries paid for crude oil and how much the company sold it for as gasoline.
Support our journalism
Subscribe to the Los Angeles Times.
NATION-WORLD
Hundreds dead as Cyclone Freddy continues to slam Malawi and Mozambique. Tropical Cyclone Freddy, which is devastating southern Africa in a rare second landfall, has killed at least 216 people in Malawi and Mozambique since Saturday night, with the death toll expected to rise, authorities said.
Russian missile hits another Ukraine apartment block, killing at least one person. A Russian missile struck an apartment building in the center of Kramatorsk, killing at least one person and wounding seven others in one of Ukraine's major city strongholds in its eastern Donetsk region as it fights against Moscow's invasion, officials said.
HOLLYWOOD AND THE ARTS
How Miley Cyrus got her groove back. Cyrus turns her divorce into a showcase for her mutable identity and powerhouse voice on "Endless Summer Vacation," led by the smash empowerment jam "Flowers."
Drake's It's All a Blur tour with 21 Savage is coming to L.A. and Inglewood. Drake announced his first North American tour since 2018, with 21 Savage in tow. The tour includes four stops in Los Angeles and Inglewood.
L.A.'s queer community speaks out against Tennessee's drag ban. L.A. drag queens and members of the queer community say that a wave of local anti-LGBTQ hate is just the beginning of the ripple effect from Tennessee laws prohibiting their way of life.
BUSINESS
U.S. inflation eases but stays high, putting Fed in a tough spot. Consumer prices are rising faster than the Federal Reserve wants, but some economists still expect the central bank to suspend its yearlong streak of rate hikes.
Meta will cut 10,000 jobs and eliminate 5,000 more vacant positions. The Facebook parent company is embarking on a "year of efficiency" to improve its financial performance and achieve longer-term goals. As part of those efforts, Meta is flattening the organization, canceling lower priority projects and slowing hiring, Chief Executive Mark Zuckerberg said in a statement.
Highways are getting deadlier, with fatalities up 22%. Our smartphone addiction is a big reason why. Highway fatalities are on the rise again — 46,000 in the U.S. in 2022, up 22%, according to numbers released last week. How many of those deaths involved distracted driving?
SPORTS
March Madness: How to watch and stream the First Four and first round. The 2023 NCAA men's basketball tournament tips off Tuesday with the First Four round of games. Here's how to watch and stream March Madness.
Twelve things that must go right for UCLA during March Madness to raise banner No. 12. The Bruins' relentless defense and ability to protect the ball make them capable of beating any team. What has to happen for them to win a 12th title?
How Ali Modami became Team USA's go-to batting practice pitcher. Angels batting practice pitcher Ali Modami joined Team USA for the WBC — an assignment built on years of stellar work with hitters around MLB.
Free online games
Get our free daily crossword puzzle, sudoku, word search and arcade games in our new game center at latimes.com/games.
OPINION
Rain-on-snow floods in California could get much worse with climate change. As the planet warms, disastrous flooding from rain and melting snow is only one of many costly risks local communities will need to account for.
Ukraine wants Russia prosecuted for war crimes. Why is the U.S. stalling in its support? Should the U.S. do everything it can to help hold Russia accountable for its atrocity crimes in Ukraine? As Russian bombs and soldiers wreak havoc on the country, you would think so. Last week, however, the New York Times reported that the Pentagon is blocking U.S. efforts to hand over important evidence to the International Criminal Court.
ONLY IN L.A.
Where to find the best lobster roll in Los Angeles. Check out these food recommendations that include a lobster roll from Saltie Girl in West Hollywood and chile relleno and huaraches from Tacos DF in South Gate.
FROM THE ARCHIVES
"The Godfather," a three-hour epic that follows the life of the Corleones, an influential Italian American crime family, was released in theaters on March 15, 1972. It stars Marlon Brando as Vito Corleone.
It starts with sad notes on a trumpet and an undertaker's shaky credo, "I believe in America." It ended as a critical and popular sensation, the first motion picture to take in a million dollars a day, nominated for 10 Oscars and the opening salvo of a trilogy that has thus far taken in nearly a billion dollars in revenue worldwide.
But, the movie was dogged with controversy right from the start: The Italian-American Civil Rights Organization conducted a rally in Madison Square Garden shortly after Paramount Pictures announced its development, stating the movie would amount to an insult against Italian Americans. The outrage only helped the movie's publicity, which Paramount was hoping to capitalize on after the success of Mario Puzo's book.
We appreciate that you took the time to read Today's Headlines! Comments or ideas? Feel free to drop us a note at headlines@latimes.com.