Snow buries California mountain communities
Today's Headlines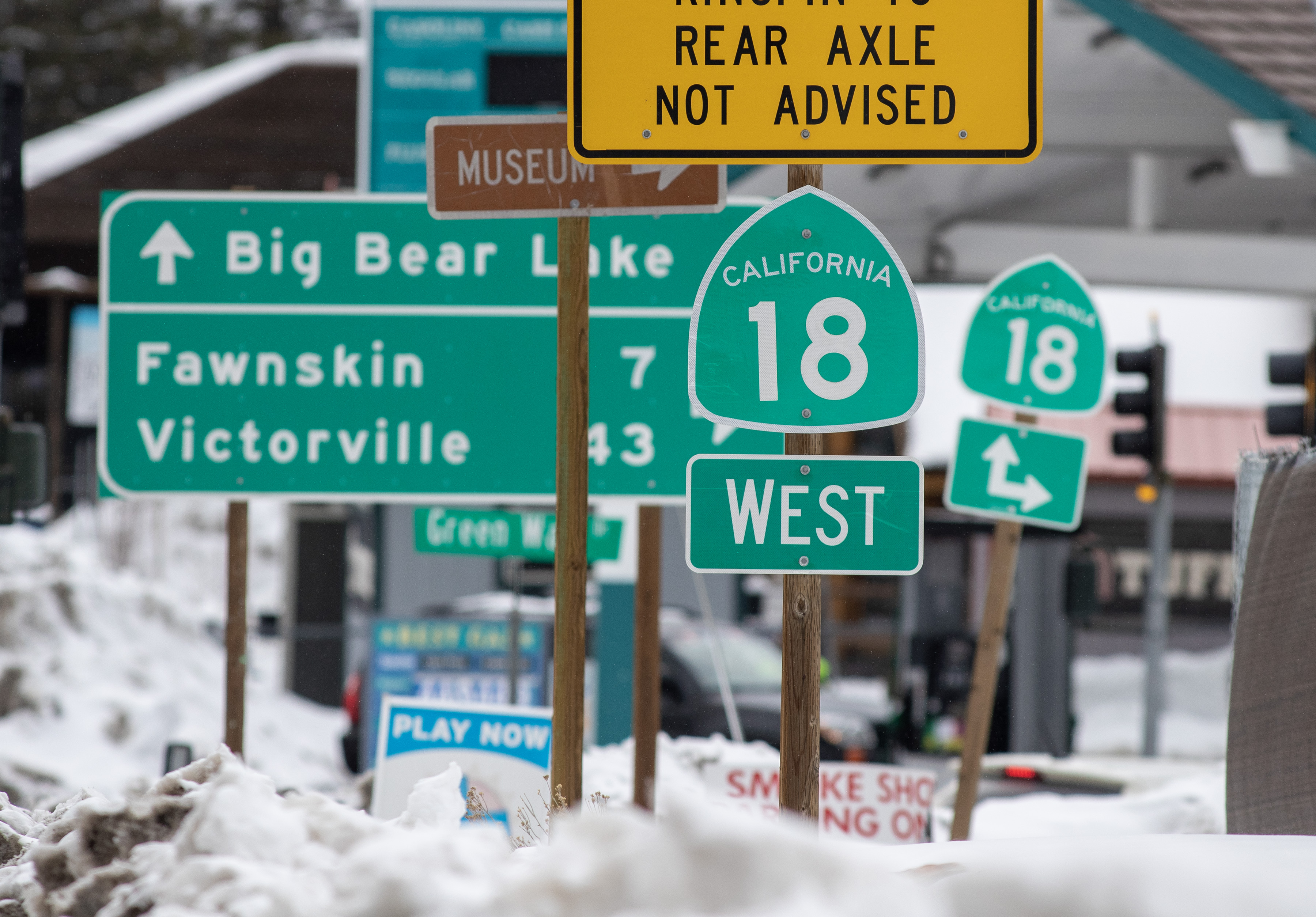 By Kenya Romero, Elvia Limón
Hello, it's Thursday, March 2, and here are the stories you shouldn't miss today:
TOP STORIES
Heavy snow buries California mountain communities
Another week of pounding snow has deluged many of California's most popular mountain resorts and communities, from Lake Tahoe to Lake Arrowhead, where residents struggled with shuttered highways and dwindling food supplies.
Crews across the state worked desperately to clear roadways as more snow fell overnight, amid a blizzard warning that has been in place since Monday. Record-breaking snowfall forced Yosemite National Park to close and emergency officials pleaded with people to stay home and avoid the roads.
The Sierras were particularly hard hit, with all the major roads to Lake Tahoe closed and reports of at least one 200-yard-wide avalanche.
More on the storms

Suspect in attacks on Jewish men was on FBI's radar, LAPD chief says
Jaime Tran, the man charged with the hate-motivated shootings of two Jewish men in Los Angeles, was on the FBI's radar before the attacks, Los Angeles Police Chief Michel Moore said.
How Tran slipped through the FBI's threat-tracking system despite suggestions that he posed a considerable, and perhaps deadly, danger remains under investigation by the FBI, said Moore and other officials.
Shasta cuts ties with Dominion amid unfounded voting fraud claims
Fueled by unfounded conspiracy theories about rigged voting, Shasta County has severed ties with Dominion Voting Systems and is considering a return to hand-counting ballots.
On the same day, in another Republican-controlled county, Kern County supervisors narrowly voted to keep Dominion, but not before listening to hours of testimony from residents who were convinced the election system was rigged.
The actions in California's halls of local government come as Dominion is waging a vigorous legal battle against Fox.
Sign up for our California Politics newsletter to get the best of The Times' state politics reporting and the latest action in Sacramento.
An L.A. father's journey toward healing himself, building community
Traditionally, an authoritarian parenting style is used by Black parents to protect their children as they grow up Black in America. Bobby Brown and his family are trying a different approach.
For the last six years, Brown has sought out mental health care and built a supportive community of Black fathers who lean on one another as they evolve as Black men and parents.
His journey has also included attending a growing number of Black-led mental health events in L.A. that focus on healing the whole person and the community.
Russia's war on Ukraine is benefiting arms dealers and makers
The combat in Ukraine, now in its second year, has jacked the global arms trade, fueling a new appetite for materiel not just in Moscow and Kyiv but also around the world as nations gird themselves for possible confrontations.
The war has rocked long-standing relationships within the weapons industry, rejiggered the calculations of who sells what to whom and changed customers' tastes in what they want in their arsenal.
Our daily news podcast
If you're a fan of this newsletter, you'll love our daily podcast "The Times," hosted every weekday by columnist Gustavo Arellano, along with reporters from across our newsroom. Go beyond the headlines. Download and listen on our App, subscribe on Apple Podcasts and follow on Spotify.
PHOTO OF THE DAY
CALIFORNIA
A man arrested in connection to 7 bombings in Fresno has links to a hate group, authorities say. Scott Anderson of Fresno allegedly made and used pipe bombs on six vehicles since Dec. 13, deploying explosives inside and under the vehicles on six occasions. The seventh bombing involved a mailbox, according to authorities.
A vote on LAPD transit patrols sparks a City Hall debate over safety on the Metro system. The Los Angeles City Council voted to extend the LAPD's contract to patrol Metro's buses and trains, setting off a fresh debate over rising crime on the region's transit system and the push to find alternatives to police.
UCLA and UCSF hospital nurses voice complaints about overcrowding and staffing shortages. At the Ronald Reagan UCLA Medical Center, patients sometimes lie in hallways on gurneys for days at a time, said Dianne Sposito, an emergency room nurse at the hospital.
Support our journalism
Subscribe to the Los Angeles Times.
NATION-WORLD
Prosecution presents closing arguments in Alex Murdaugh's murder trial. A prosecutor says Murdaugh's theft of millions of dollars was about to be revealed so he killed his wife and son to buy time to figure a way out.
Spain approves menstrual leave, teen abortion and trans laws. The Spanish parliament on Thursday approved legislation expanding abortion and transgender rights for teenagers, while making Spain the first country in Europe that will entitle workers to paid menstrual leave.
Dr. Simi is a TikTok star. He's also a sign of Mexico's healthcare crisis. Dr. Simi, the lab-coated cartoon mascot of Mexico's largest pharmacy chain, speaks to the failures of the nation's public health system.
A long-lost ship was found at the bottom of Lake Huron, confirming the story of a tragic collision. Searchers have found the Ironton, a Great Lakes vessel that came to a tragic end in 1894 when it collided with a grain hauler and sank in Lake Huron.
HOLLYWOOD AND THE ARTS
While rain drenched L.A., Dave Grohl smoked brisket for those unhoused in L.A. Foo Fighters frontman Dave Grohl hosted a barbecue cookout for 450 of L.A.'s unhoused at Hope the Mission's Trebek Center just as the storm hit Los Angeles.
How Michael B. Jordan seized the reins of a legendary franchise. Making his directorial debut with "Creed III," the actor is diplomatic about his creative differences with Sylvester Stallone. But he stands by his vision.
Court orders Kodak Black into drug rehab after rapper allegedly tests positive for fentanyl. A judge has ordered Kodak Black, who is awaiting trial in Florida on a drug trafficking charge, into a month of rehab after the rapper allegedly tested positive for fentanyl.
Justin Bieber's 'Justice' world tour was canceled after several postponements. After several postponements, the singer and his team have seemingly called off the remaining shows of the tour's European leg and more, including the June 2024 shows scheduled for the Kia Forum in Inglewood.
BUSINESS
What should you expect from Elon Musk's third master Tesla plan? Affordability and autonomy have eluded Elon Musk. Expect him to say his company can finally deliver both in its next phase of growth.
Drugmaker Eli Lilly is set to slash insulin prices. Eli Lilly will cut prices for some older insulins later this year and immediately expand a cap on costs that insured patients pay when they fill prescriptions.
SPORTS
Kings trade Jonathan Quick, a legendary goaltender who couldn't make time stand still. Jonathan Quick helped win two Stanley Cup championships, but the aging star is not part of the next generation and trading a legend won't hurt the team.
Anthony Davis will miss the Lakers' game against Thunder. Like Lakers teammate LeBron James, Anthony Davis will miss Wednesday's game against the Oklahoma City Thunder because of a right foot injury.
Who could replace Dodgers shortstop Gavin Lux? The Dodgers announced shortstop Gavin Lux would miss the entire year because of a torn ACL in his right knee. Here are four ways the Dodgers can fill the hole in their lineup.
Free online games
Get our free daily crossword puzzle, sudoku, word search and arcade games in our new game center at latimes.com/games.
OPINION
Los Angeles County bus riders get no shelter from the storm. What should be a simple, basic amenity of bus service — a bench to sit on and some shade while waiting — is still a rarity in most areas of the region. Just 1 in 4 stops served by Los Angeles County Metropolitan Transportation Authority buses provide cover from the weather, according to a new analysis.
COVID lab leak? Mask mandates? Why are we still having these fights? The White House announced there is no consensus in the Biden administration about whether COVID-19 sprang from a leak in a virus laboratory in China or was the result of a leap from another species to humans.
ONLY IN L.A.
13 historical sites that made Central Avenue the cultural lifeline of South L.A. South Central Avenue was once a thriving hub for Black Angelenos. Here's a look back at an important piece of civic history in L.A.
FROM THE ARCHIVES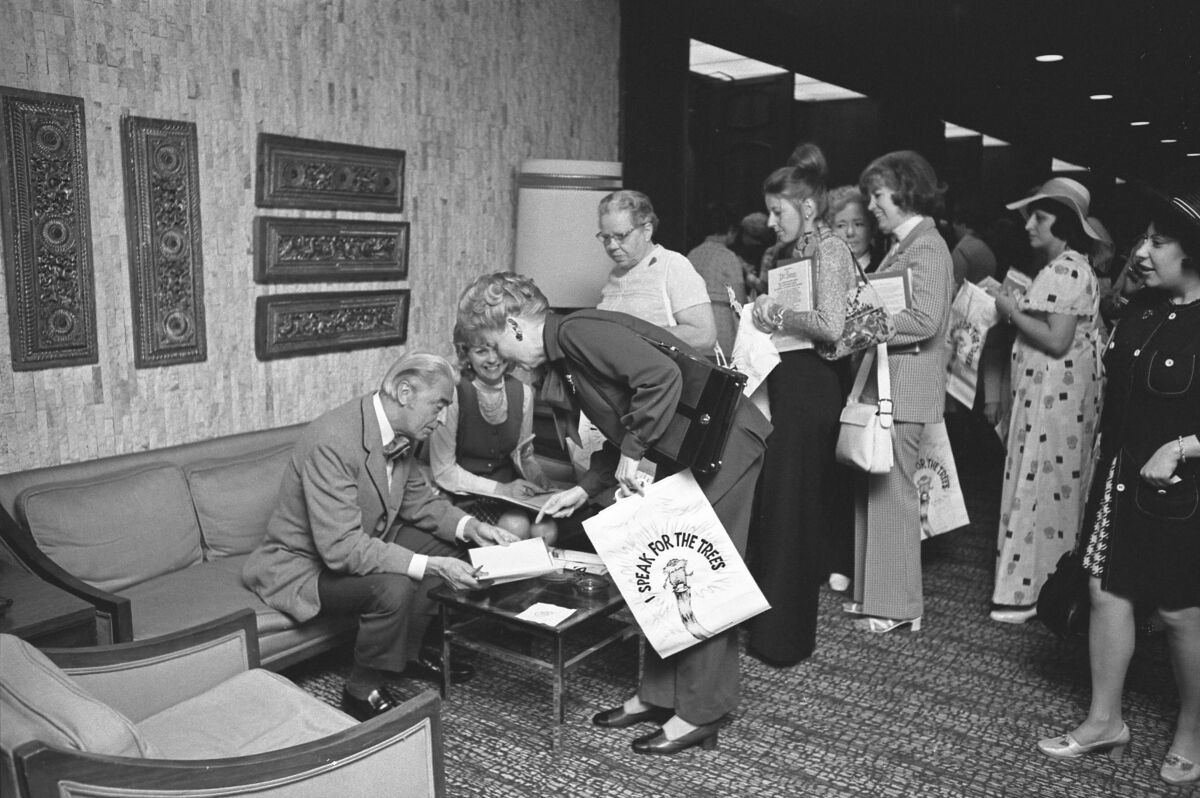 Theodor Geisel, known to generations of young readers as Dr. Seuss, was born 119 years ago. Geisel, who died in 1991, took the pen name Dr. Seuss when he was a student at Dartmouth College in the 1920s. He went on to publish more than 40 children's books.
We appreciate that you took the time to read Today's Headlines! Comments or ideas? Feel free to drop us a note at headlines@latimes.com.