Trapped by snow, demanding answers
Today's Headlines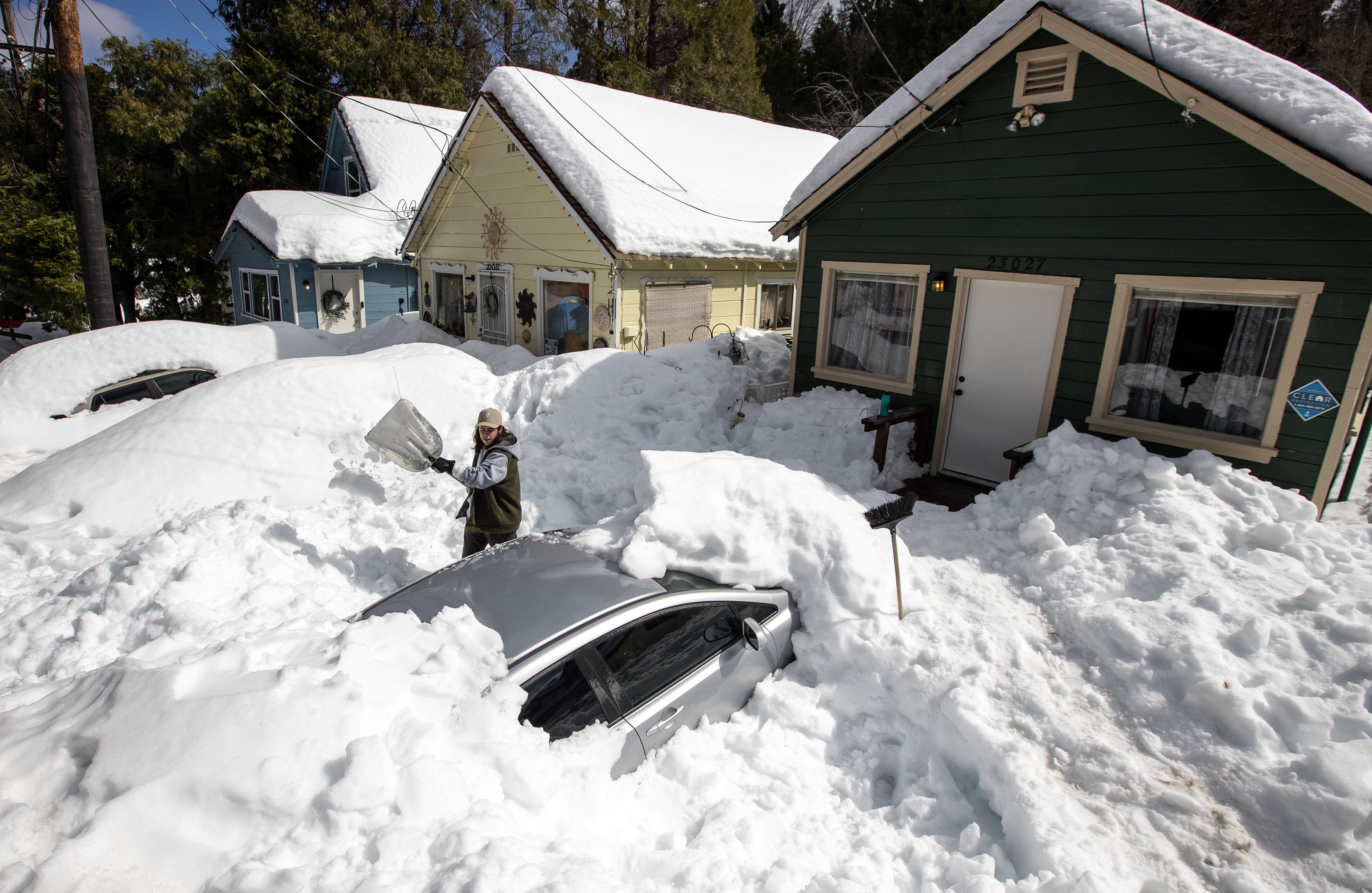 By Elvia Limón, Kenya Romero
Hello, it's Wednesday, March 8, and here are the stories you shouldn't miss today:
TOP STORIES
San Bernardino Mountain residents trapped by snow demand answers
Officials knew the San Bernardino County mountains were going to be hit by a bad storm days before an unprecedented blizzard rolled in. But they found themselves unprepared for the historic amount of snow and the disruptions it would bring.
More than 100 inches of snow fell in back-to-back storms over the course of a few days, shutting down most mountain roads and leaving multiple communities stranded, some for nearly two weeks since

L.A. County probation chief fired
Los Angeles County Probation Department Chief Adolfo Gonzales was fired by the Board of Supervisors in a unanimous vote, ending a tumultuous two-year term.
Chief Deputy Karen Fletcher, Gonzales's second-in-command, has been named the interim chief of the Probation Department, according to spokespeople for board Chair Janice Hahn and Supervisor Kathryn Barger.
Barger said she supported sending in a "strike team" to overhaul the probation department. She said Gonzales lost what was left of her support during a visit to the juvenile halls a few weeks ago.
More politics

The Los Angeles City Council temporarily tabled a vote on whether to accept the controversial donation of a dog-like robot for the LAPD.
A proposal by three council members would declare L.A. a "sanctuary city" and bar city personnel or resources from being used in federal immigration enforcement.
Sign up for our California Politics newsletter to get the best of The Times' state politics reporting and the latest action in Sacramento.
Odds of El Niño return to California are increasing
The stubborn La Niña climate pattern that gripped the tropical Pacific for a rare three years in a row is waning, and the odds of an El Niño system forming later this year are getting stronger, according to recent reports.
La Niña is often associated with drier-than-normal conditions in California, especially in the southern part of the state.
El Niño, on the other hand, is linked to an enhanced probability of above-normal rainfall in California, along with accompanying landslides, floods and coastal erosion, though it is not a guarantee.
2 kidnapped Americans found dead in Mexico; 2 are rescued
Two of four U.S. citizens kidnapped at gunpoint last week in northern Mexico were found dead Tuesday, Mexican authorities said, and two others were freed and transported to the United States in a dramatic rescue operation that capped off a days-long manhunt.
The frantic rescue came four days after the group of tourists was apparently caught by mistake in a gunfight among rival criminal groups in a busy stretch of downtown Matamoros. A video showed the victims later being loaded into the back of a pickup truck by gunmen.
Our daily news podcast
If you're a fan of this newsletter, you'll love our daily podcast "The Times," hosted every weekday by columnist Gustavo Arellano, along with reporters from across our newsroom. Go beyond the headlines. Download and listen on our App, subscribe on Apple Podcasts and follow on Spotify.
PHOTO OF THE DAY
CALIFORNIA
Anthony Avalos' mother and her boyfriend were convicted of murder in the child abuse case. Neither Heather Barron nor Kareem Leiva showed any reaction as the judge read the verdict. Some relatives and victims' rights advocates shouted "yes!" when the judge read that Leiva was guilty of the first count.
Amid talk of SoCalGas rate hikes, groups urge L.A. city attorney to investigate the utility. Twenty organizations called on Los Angeles City Atty. Hydee Feldstein Soto to investigate SoCalGas for "potential price gouging and market manipulation."
L.A. residents who drive less are exposed to more air pollution, a study finds. Researchers from USC concluded that residents of wealthier, whiter L.A. areas exported air pollution to the neighborhoods around their commutes.
Support our journalism
Subscribe to the Los Angeles Times.
NATION-WORLD
U.S. sues to block JetBlue from buying Spirit Airlines. The Biden administration sued to block JetBlue Airways' $3.8-billion purchase of Spirit Airlines, saying the deal would reduce competition and drive up air fares for consumers.
Could a Texas judge halt abortion pill access, even in havens like California? A Trump-appointed conservative judge will rule on abortion pills. The effect could be greatest in blue states like California. Here's what you need to know.
Ukraine is making it easier for Russian soldiers who want to surrender with a high-tech hotline. The Ukrainian military's surrender hotline, dubbed "I Want to Live," is enticing some Russian soldiers to quit the battlefield as the war drags on.
HOLLYWOOD AND THE ARTS
Drew Barrymore is too much — and that's just right. At 48, Drew Barrymore has survived divorce, quitting alcohol and leaving her beloved Los Angeles. Now she's trying to embrace herself as she forges ahead in a new direction — talk show host.
Ukrainian group protests Oscar nominations for 'Top Gun: Maverick' over alleged ties to a Russian oligarch. Ukrainian World Congress calls on the film academy to reconsider Oscar nominations for "Top Gun: Maverick" over alleged ties to a Russian oligarch.
LACMA says the new building campaign funding is 98% complete and is now standing at $736 million. LACMA announced that its $750-million building campaign now stands at $736 million. Since 2020, the museum has also added 11 new board members, which it said has been key to reaching its fundraising goal.
BUSINESS
Stocks drop and yields rise on worries about faster rate hikes. Stocks are falling on Wall Street after the head of the Federal Reserve warned it could pick up the pace of its hikes to interest rates.
What's happening to the color of L.A. cars? Over the last decade, muted paint colors have taken over the automotive world. The understated shades, which are popular for sports cars and utility vehicles, will cost you. Take a look inside the obsession with muted earth tones.
She didn't need the risky surgery. County doctors are accused of talking her into it anyway. An L.A. County public hospital performed an unneeded surgery after its doctors received pay from the maker of the medical device they implanted, a whistleblower says.
SPORTS
Is the Pac-12 really this bad? Is the Pac-12 really so diminished it can't land a TV deal? Here's a closer look at why the league is struggling ahead of USC and UCLA's departure.
Why UCLA must win the Pac-12 tournament to secure No. 1 March Madness seed. A 10-game winning streak and the Pac-12 regular season title aren't enough to guarantee UCLA a No. 1 seeding in the NCAA tournament? Nope. Here's why.
How an injury renewed Sarah Gorden's fight for mental wellness and social justice. A torn ACL nearly derailed Angel City defender Sarah Gorden's soccer career, but she strengthened her bonds with her family and community off the field.
Free online games
Get our free daily crossword puzzle, sudoku, word search and arcade games in our new game center at latimes.com/games.
OPINION
All that rain and snow! How can California still be in drought? The U.S. Drought Monitor reports that 17% of California is now out of drought. Only 17%? How is that possible? We are deep in water debt and a single wet winter isn't going to make us flush again.
Another toxic train derailment will happen if we don't rein in plastics. The train that derailed in Ohio last month was carrying vinyl chloride, used to make PVC plastics — which we need to use less.
ONLY IN L.A.
The 32 most spectacular ceilings in Los Angeles. As a child, Teena Apeles would often visit Griffith Observatory, where her parents took her and her sisters to marvel at the views of the city and see the stars at night through the famous public telescopes. But what she'll never forget is what greeted her indoors, just through the main entrance, when she looked up.
Over the last several months, she visited and revisited L.A. destinations with breathtaking ceilings, now with her own young daughter by her side. She's learned about their history and architecture and the massive efforts taken to preserve them. (Although many of these ceilings are now protected by local and national decree, rapid development, natural disasters and our own vices — decades of cigar and cigarette smoke, for instance — have taken a toll. If not for the passionate work of artisans, engineers, architects, preservationists and funders, many of these ceilings would not exist today.) Here, she shares the 32 most spectacular ceilings she's found, though the selections could easily triple in number.
FROM THE ARCHIVES
On March 8, 1971, Richard Nixon was a little more than halfway through his first term as president. John Lindsay was the mayor of New York City. A gallon of gasoline cost about 30 cents and for $1.50 you could see a double feature at any of two dozen "respectable" movie houses on 42nd Street between Broadway and Eighth Avenue.
And at Madison Square Garden, Joe Frazier and Muhammad Ali were preparing to fight for the undisputed world heavyweight championship in one of the first of many bouts dubbed the "Fight of the Century." In an era when major league baseball players barely had reached the $100,000-per-year milestone, Frazier and Ali would split a record $5 million in a bout that would sell out the Garden and rivet more than 200 million people before television screens around the world.
Ali had been stripped of his world heavyweight champion title in 1967 for refusing to serve in the armed forces. As he was still undefeated, Frazier had to beat him to be recognized as the world champion. In the "Fight of the Century," Frazier triumphed over Ali.
We appreciate that you took the time to read Today's Headlines! Comments or ideas? Feel free to drop us a note at headlines@latimes.com.