Officials knew Pajaro levee could fail
Today's Headlines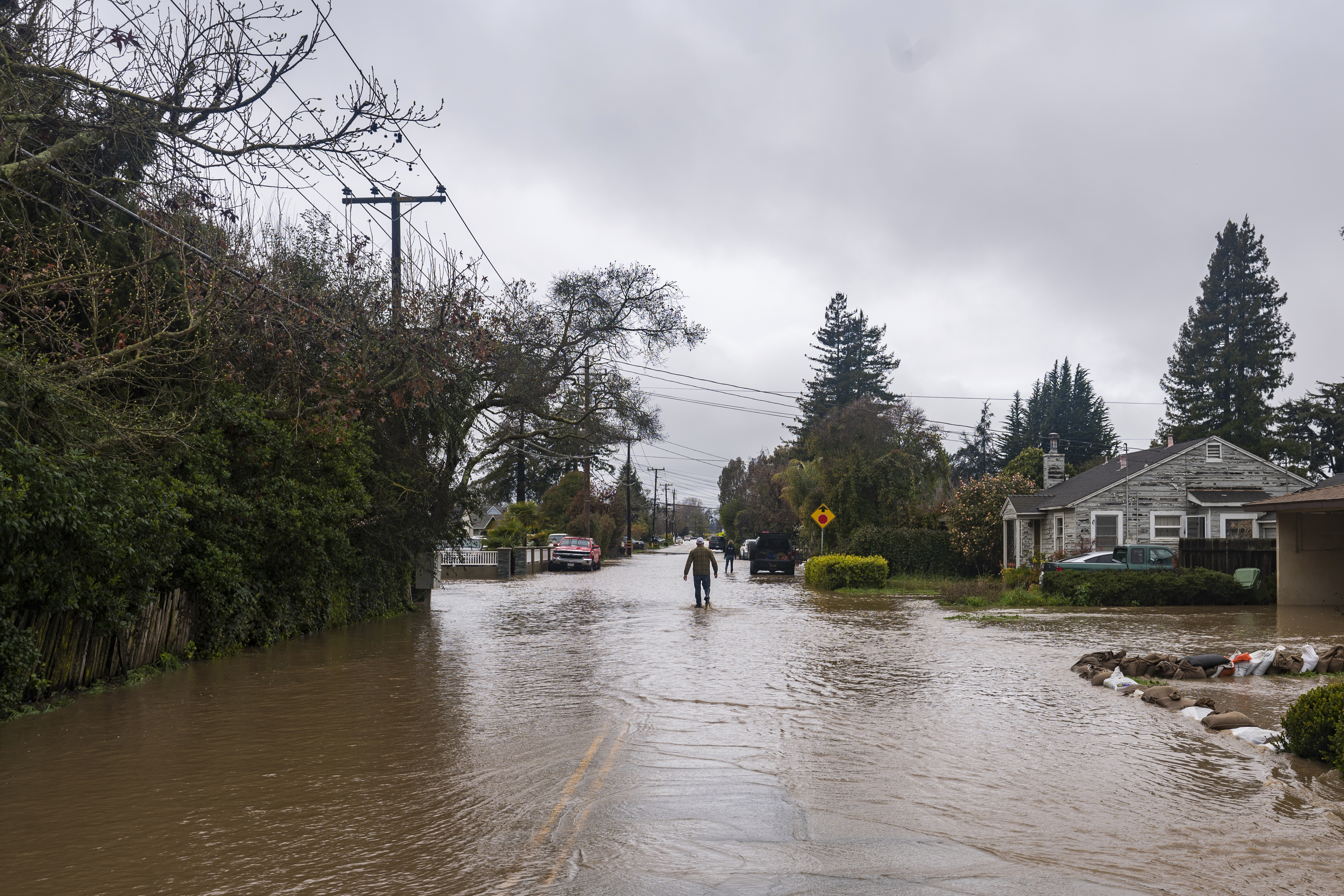 By Elvia Limón
Hello, it's Monday, March 13, and here are the stories you shouldn't miss today:
TOP STORIES
Before epic flood, officials knew Pajaro levee could fail
Officials have known for decades that the Pajaro River levee that failed this weekend — flooding an entire migrant town and trapping scores of residents — was vulnerable but never prioritized repairs in part because they believed it did not make financial sense to protect the low-income area, interviews and records show.
The levee was built in 1949 and, according to a 2021 Army Corps webpage summary of the system, "no longer provides the designed level of protection."
The 2023 Oscars
Ke Huy Quan really did win almost everything, everywhere this awards season, culminating with the Oscar for best performance by a supporting actor.
"My mom is 84 years old, and she's at home watching," said the 51-year-old actor, crying as he mounted the stage. "Mom, I just won an Oscar!"
Read all of our Oscar coverage here.
All Silicon Valley Bank customers' funds guaranteed
Customers of Silicon Valley Bank, shut down by regulators Friday after a bank run in the first bank failure since 2008, will be able to access all their funds today, the heads of the Federal Reserve, the Treasury Department and the Federal Deposit Insurance Corporation said.
More about SVB

No federal bailout for collapsed Silicon Valley Bank, Treasury Secretary Janet L. Yellen says.
Demands by the tech industry's most vocal libertarians for a government bailout of Silicon Valley call to mind the old saw: The goal in business is to privatize profits and socialize losses, writes columnist Michael Hiltzik.
Calls for travel advisory about fentanyl in pills at Mexican pharmacies
Congressional lawmakers are calling on the State Department to issue a travel advisory warning American travelers that some Mexican pharmacies are passing off counterfeit pills made of fentanyl and methamphetamine as legitimate pharmaceuticals.
In explaining the need for such a high-profile warning, the letter repeatedly cited an investigation by the Los Angeles Times as well as a study by UCLA researchers — both of which found dangerous counterfeit pills being sold over the counter at pharmacies in northwestern Mexico.
Sign up for our California Politics newsletter to get the best of The Times' state politics reporting and the latest action in Sacramento.
Our daily news podcast
If you're a fan of this newsletter, you'll love our daily podcast "The Times," hosted every weekday by columnist Gustavo Arellano, along with reporters from across our newsroom. Go beyond the headlines. Download and listen on our App, subscribe on Apple Podcasts and follow on Spotify.
OUR MUST-READS FROM THE WEEKEND
At this California prison, 'we are no longer prisoners. We are professionals.' A graduation ceremony at the state prison in Lancaster was held for 20 men who have been trained as alcohol and drug counselors. It was an accomplishment that could help them secure jobs inside and outside California prisons.
How a deaf, autistic basketball player's shining moment became a Cerritos College nightmare. Basketball saved Kade West after the deaf, autistic athlete lost his mom. But other hurdles nearly derailed his athletic dreams at Cerritos College, writes sports columnist Bill Plaschke.
CALIFORNIA
Los Angeles teachers and other workers plan a three-day strike as labor woes explode. The strike plans by Local 99 of service employees and United Teachers Los Angeles come in response to what they say are stalled negotiations.
McCarthy receives a homecoming welcome from California Republicans after being elected speaker. California Republicans celebrate Bakersfield's McCarthy becoming speaker of the House — a rare bright spot for a party in decline.
Huntington Park agrees to a settlement on the illegal detention of immigrants. Huntington Park settled with Jose Luis Maldonado Aguilar, who was illegally detained and handed over to ICE by the city in July 2019.
Why some progressive groups are staying out of this L.A. City Council race. Some of the city's well-known progressive groups, including Ground Game Los Angeles, haven't endorsed in the City Council District 6 race.
Theodore Kanamine dies; a Japanese American prison camp survivor who became Army general. Throughout his military career, Kanamine led the investigation into the My Lai Massacre and researched the toxic chemical Agent Orange.
Support our journalism
Subscribe to the Los Angeles Times.
NATION-WORLD
The coronavirus has infected New York City's rats. Why that's bad news for people. Rats living in New York City's sewer system can catch the virus that causes COVID-19. Could they incubate new variants and spread them to people?
Former Vice President Mike Pence says Trump 'endangered my family' in Capitol riot on Jan. 6. Pence's remarks were the sharpest condemnation yet from the once-loyal lieutenant who has often shied away from confronting his former boss.
HOLLYWOOD AND THE ARTS
'Scream VI' tops box office with franchise-best $44.5 million. The Paramount Pictures and Spyglass Media Group co-production sailed past expectations, easily surpassing the previous series high of $32 million that "Scream 2" opened with in 1997.
Did 'Tiger King' ruin Joe Exotic's life? 'Absolutely,' he says in a call from prison. Joe Exotic says "Tiger King" didn't make him a star. Rather, the hit Netflix series "ruined" his life — even though he was convicted before it debuted.
Eagle-eyed Miley Cyrus fans think a new song is about her ex Liam Hemsworth cheating. "Muddy Waters," the ninth track on Cyrus' new album that dropped late Thursday night, has all the makings of a revenge track.
BUSINESS
Don't miss these 3 tax credits when you file this year. Unlike a deduction, which decreases the income on which you'll be taxed, a tax credit reduces your overall tax due.
SPORTS
The Rams trade Jalen Ramsey to the Dolphins for tight end Hunter Long, a third-round pick. Now, with the Rams coming off a disastrous 2022 season, and with the bills for their boom-or-bust philosophy coming due, Ramsey becomes the latest high-priced veteran to move on as the Rams work to get under the NFL's $224.8-million salary cap.
March Madness: UCLA secures No. 2 seed in West; USC makes NCAA tournament. UCLA secured a No. 2 seed in the NCAA men's basketball tournament and will play North Carolina-Asheville in the first round on Thursday.
Free online games
Get our free daily crossword puzzle, sudoku, word search and arcade games in our new game center at latimes.com/games.
OPINION
The real Los Angeles model of juvenile justice: Delay, disaster, disgrace. L.A. County government's unconscionable floundering endangers the lives of the teenagers the county is duty-bound to protect.
ONLY IN L.A.
Bagels seem to be everywhere lately. This might not be news in New York, where bagels first made their stateside appearance in the late 19th century, but here in Los Angeles, where transplants never fail to criticize us for taking creative liberties with their signature foods (looking at you, New York-style pizza), one can't help noticing a new crop of bagel bakers across the city.
Here are 14 L.A. bagel shops, from longtime classics to brand-new entrants, that we can't get enough of.
FROM THE ARCHIVES
Two years ago, "Marvelous" Marvin Hagler died at the age of 66. Hagler was one of the great middleweights in boxing history. He fought on boxing's biggest stages against its biggest names, as he, Leonard, Hearns and Roberto Duran dominated the middleweight classes during a golden time for boxing in the 1980s. Quiet with a brooding public persona, Hagler fought 67 times over 14 years as a pro out of Brockton, Mass., finishing 62-3-2 with 52 knockouts.
We appreciate that you took the time to read Today's Headlines! Comments or ideas? Feel free to drop us a note at headlines@latimes.com.