Who can help Mayor Karen Bass fix Metro?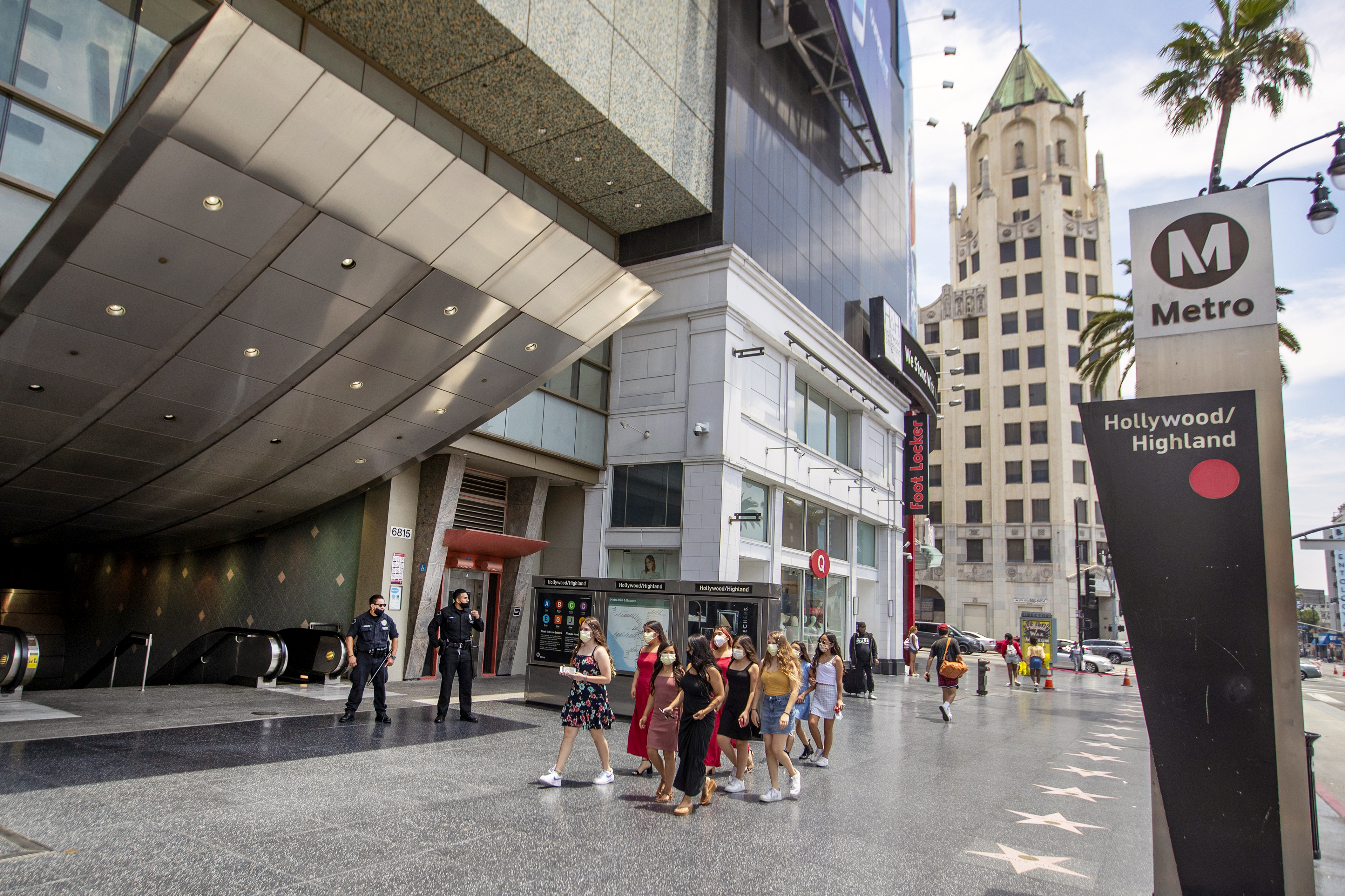 Good morning, and welcome to L.A. on the Record — our City Hall newsletter. It's David Zahniser, with much help from Rachel Uranga, Julia Wick, Dakota Smith and Libor Jany.
If there's one agency that will need strong oversight from Mayor Karen Bass in the coming years, it's Metro.
Drug overdoses have become an urgent issue on the Metropolitan Transportation Authority's transit network. Customers have voiced alarm about rising crime on the system's buses and trains. Rail ridership is still well below pre-pandemic levels.
So it's not surprising that Bass has been focused in recent days on filling the Metro board seat previously occupied by former Councilmember Mike Bonin, who pushed for free fares and a cadre of unarmed ambassadors to improve transit safety.
Bass, a Metro board member herself, told The Times she intends to choose a council member to replace Bonin and has interviewed three candidates for the post. Her choice could prove crucial to the future of the countywide agency, which is building new rail lines to the Westside, Los Angeles International Airport and elsewhere while confronting new financial pressures.
One politician actively seeking the seat is Councilmember Eunisses Hernandez, who took office in December and has a district with subway and light-rail stations. Another is Councilmember Monica Rodriguez, who is based in the San Fernando Valley, where a light-rail line is planned along Van Nuys Boulevard.
Politically, those two come from very different places. Rodriguez took office in 2017 with major support from construction trade unions and the Los Angeles Police Protective League, which represents LAPD officers. Hernandez was backed by the Democratic Socialists of America-Los Angeles and Ground Game L.A., which have called for the defunding or abolition of the LAPD.
Both women have demonstrated an independent streak, at times voting no when all or most of their colleagues voted yes. Rodriguez cast dissenting votes on redistricting, a South L.A. hotel project and changes to the city's censure process. Hernandez recently opposed an LAPD gun buyback program, a plan to send LAPD staff to a symposium on women police officers, and, perhaps most critically, a $54-million extension of Metro's policing contract, which she called an improper use of public funds.
Whether Bass is looking for such fierce independence is not yet clear. The mayor's power at Metro stems from the fact that she appoints three of Metro's 13 board seats. That makes it essential that she and the other three stick together when seeking to advance the mayor's transit agenda, said Richard Katz, who served on Metro's board under Mayor Antonio Villaraigosa.
"It takes seven votes to get anything done there. The L.A. delegation from the city is four, and that puts you a lot closer to reaching your goal if you can count on all four votes," he said.
One area where Hernandez has an edge: She is backed by a coalition of pro-transit and anti-poverty groups, which sent a letter to Bass endorsing her for the Metro post. Laura Raymond, director of the Alliance for Community Transit-Los Angeles, told The Times that Hernandez will "fight for equity and representation" on behalf of transit riders of color and low-income riders.
Meanwhile, there is yet another contender for the Metro seat — Councilmember Katy Yaroslavsky, a onetime aide to County Supervisor Sheila Kuehl, who spent eight years on Metro's board. Yaroslavsky, like Hernandez, is a newcomer to the council. Metro is extending the Purple Line subway deep into Yaroslavsky's Westside district, while also planning a north-south Sepulveda Pass rail line that would pass through her district.
Yaroslavsky voiced interest in those two projects, as well as efforts to build affordable housing on Metro properties. "However, the decision is the mayor's alone to make, and any one of the highly qualified candidates for the position would be incredible additions to the Metro board," she said in a statement.
Bass expects to make her decision within a week. Her spokesperson, Zach Seidl, said the mayor's priority for the agency is to "boldly address homelessness and to make Metro safer for everyone."
"She will announce a new board member soon who is in alignment with her urgent agenda for Metro and our city," he said.
State of play
— DE LEON'S DOUGH: In the months before taking office in 2020, Los Angeles City Councilmember Kevin de León made more than $100,000 working for the nonprofit AIDS Healthcare Assn. Now, The Times' Liam Dillon, Benjamin Oreskes and Doug Smith have provided an in-depth look at that work, saying it raises "uncomfortable questions surrounding De León's handling of problems at residential hotels the foundation owns in his district."
— SEE SPOT WAIT: The City Council delayed a vote on whether to accept a donation to allow the Los Angeles Police Department to purchase a robot dog, which would climb stairs, open doors and be used for reconnaissance. Opponents are pushing the council, which now has several outspoken LAPD critics, to reject the nearly $280,000 donation, saying the robot dog — also known as "Spot" — will be used to terrorize low-income neighborhoods and communities of color.
— POLICE STANDOFF: Three officers were shot and a suspect was killed during an hours-long standoff between police and a parolee in Lincoln Heights on Wednesday. In an odd quirk of timing, the incident featured the use of at least one LAPD robot. Bass visited the injured officers on the night of the incident, telling them "their city stands with them."
— (EXTREMELY SLOW) PASSAGE TO INDIA: The Senate Foreign Relations Committee again approved former Mayor Eric Garcetti's nomination to become U.S. ambassador to India. A full Senate vote could take place as soon as next week.
— GIMME SANCTUARY: Three council members called for an ordinance declaring L.A. a "sanctuary city," barring city personnel or resources from being used in federal immigration enforcement. The law is being pushed by immigration groups ahead of next year's presidential election. Florida Gov. Ron DeSantis, a presumed Republican candidate in the race, has made cracking down on people in the country without authorization a focus.
— ASSESSING HHH: The Daily News took a lengthy look at the successes and failures of Proposition HHH, the $1.2-billion bond measure to build affordable housing for L.A.'s homeless population. "Housing is being built," said former City Administrative Officer Miguel Santana, who chaired the bond's oversight committee. "It's not being built as fast as it should be, but it is being built."
— CHAN TRIAL DELAYED: A federal judge called for a three-week postponement of the federal corruption trial of former Deputy Mayor Raymond Chan on Monday, after learning that defense attorney Harland Braun remained hospitalized. The move delays witness testimony until March 27. Prosecutors say they are on their last four witnesses.
— SUSSING OUT THE 6TH: The Times published its guide to the seven candidates running to replace former Councilmember Nury Martinez in District 6, which takes in parts of the central and east San Fernando Valley. The election is April 4, with a runoff set for two months later.
— ON THE HORIZON: The 2024 council races continue to take shape, with TreePeople policy director Manny Gonez throwing his hat into the race to replace Paul Krekorian in District 2, which takes in parts of the east San Fernando Valley. Gonez is married to LAUSD board member Kelly Gonez, who won reelection in November.
Krekorian terms out at the end of next year, creating a wide-open race for his Valley seat. Former Assemblyman Adrin Nazarian, a former Krekorian chief of staff, is also among those running.
BACK IN PERSON: With the city's COVID-19 emergency officially over, the City Planning Commission held its first in-person meeting in three years on Thursday, reviewing development proposals in Hollywood, Echo Park and elsewhere. Next week, the Board of Police Commissioners resumes its in-person sessions.
MRT's legal battle
The corruption trial of suspended Los Angeles City Councilmember Mark Ridley-Thomas kicked off this week, with federal prosecutors casting the former county supervisor as a conniving operator eager to "monetize" his position and conceal a sexual harassment investigation into his son.
Ridley-Thomas' defense attorney flatly denied the corruption alleged by the federal government, characterizing him as a lifelong public servant who has focused on serving his constituents, as The Times' Matt Hamilton reports.
The veteran politician is relying on a legal team that's partly funded by an array of high-profile donors. Ridley-Thomas has cast the prosecution as an affront to the Black community and the cause of social and racial justice, a view shared by many at an interfaith prayer service held the Sunday before the trial began. Trial continues next week.
Enjoying this newsletter? Consider subscribing to the Los Angeles Times
Your support helps us deliver the news that matters most. Become a subscriber.
QUICK HITS
Where did Inside Safe go? Bass' initiative to move homeless Angelenos off of the streets ventured deep into the San Fernando Valley this week. Outreach workers went into Councilmember Bob Blumenfield's district, visiting encampments along the Los Angeles River between Canoga Park High School and Lindley Avenue. The operation moved at least 44 people indoors, per Blumenfield's office.
On the docket for next week: Bass and Councilmember Traci Park will attend the Brentwood Homeowners Assn. meeting Monday night. The following day, Park and other members of the council's Public Safety Committee are scheduled to vote on two of the mayor's nominees to the Police Commission.

Stay in touch
That's it for this week! Send your questions, comments and gossip to LAontheRecord@latimes.com. Did a friend forward you this email? Sign up here to get it in your inbox every Saturday morning.